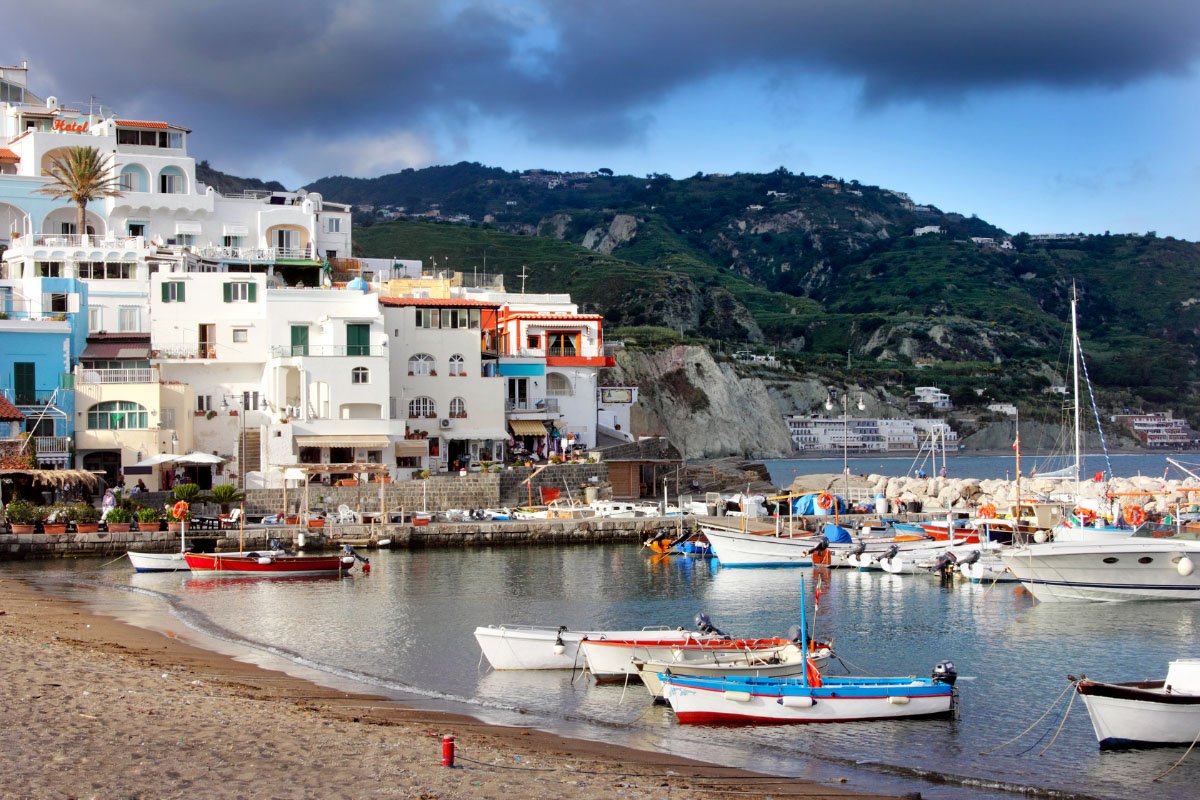 After a hot and busy week in Rome getting ready to drop Luca off to college at John Cabot University, we were ready for a seaside vacation. We chose Ischia, an island in the Gulf of Naples. Less touristy and more authentic than neighboring Capri, Ischia is a volcanic island known for the healing powers of its mineral-rich thermal waters.
A relatively large island, Ischia has several ports and villages that can serve as basecamp when visiting the island, namely Forio, Ischia Ponte, Casamicciola, and Sant'Angelo. We chose Sant'Angelo, the smallest and quietest village, because when we take a beach vacation we truly don't want anything more than good food, good beaches, and relaxation.
Sant'Angelo is located on Ischia's southern coast, about a 45-minute drive from the Port of Ischia, where we arrived by traghetto, ferry, from Naples. It is a small village of whitewashed buildings and narrow streets built into the mountain. The historical center of Sant'Angelo is pedestrian only, a lovely place to stroll the narrow streets, shop for beautiful cotton and linen island dresses, have a caffè or a gelato, or people-watch while enjoying an aperitivo in the piazza.
A typical day in Sant'Angelo
We stayed in a small vacation rental set high on a hill with an amazing terrace overlooking the sea. A typical day involved waking up, donning our swimsuits and cover ups, packing a beach bag, and walking down the hill to Dolce è la Vita's terrance overlooking the water for a cappuccino and a cornetto ischitano. A cornetto is standard breakfast fare in Rome, but the cornetto ischitano is truly special – puff pastry and brioche filled with pastry cream and topped with an Amarena cherry. Fortified, we would head to the little marina to Cooperative San Michele, where we would take a taxi boat to that day's beach of choice. When we'd soaked up enough sun and sea, we'd take the boat taxi back to Sant'Angelo, stop for an afternoon aperitivo in the shade, before walking back to our house for a nap. In the evening, we'd throw on some island-appropriate dinner clothes and head back to the village center for seafood dinner at one of the many amazing restaurants.
Beaches near Sant'Angelo
Some travelers scorn private beaches and instead venture out to find beautiful and remote spiaggie libere. Not us. We prefer a beach club where we can rent an umbrella and lounge chairs, order drinks and have lunch at the club restaurant in the shade. Here are a few of the beaches we enjoyed near Sant'Angelo.
Maronti
Maronti is a three-kilometer stretch of crescent-shaped, pebbled beach not far from Sant'Angelo, with calm, shallow water. Several beach clubs line the coast, each with its own restaurant, distinguishable form one another by their different colored umbrella. Given its vicinity to Sant'Angelo, boat taxis come and go from Maronti regularly.
Cava Grado
Cava Grado is a much smaller, more remote beach not far from Sant'Angelo. Nestled between rocks and cliff, its an excellent place to swim, snorkle and take in the gorgeous views from the water.
Sorgeto
Sorgeto is a rocky bay renowned for its thermal waters. Just off of the shore at Sorgento is a small, natural pool where hot water rises from the seabed below. Visitors to the beach take turns entering the hot water pool and relaxing in the thermal waters, and then cooling off in the sea beyond it. For a few euros, you can also have face or body painted with a detoxifying argilla mud. Sorgeto is popular and the few beach umbrellas and sun lounges fill up quickly, so plan to arrive early or come late in the day after others have left.
Restaurants in Sant'Angelo
There truly are no bad restaurants in Sant'Angelo. Despite being a small village, there were many options, from casual pizza places to elegant waterfront venues. Our recommendations tend toward the seafood restaurants, both because we love it and because its so hard to come by at home in Minneapolis.
Ristorante La Conchiglia
We arrived in Sant'Angelo in the afternoon, just as many restaurants had finished lunch service. Hungry and eager to start our vacation off right, we were lucky to be seated at Ristorante La Conchiglia, a casual bar-restaurant that is part of Hotel La Conchiglia. On a patio overlooking the water with sunbathers lounging on sunbeds on a deck below us, we enjoyed our first of many delicious seafood meals on the island.
Casa Celentino
One of our favorite restaurants during out stay in Sant'Angelo was Casa Celentino, the two-level restaurant of a hotel by the same name on the coast just outside of the heart of the city. We often stopped at Casa Celentino for an afternoon aperitivo at the bar and we returned a time or two for dinner in the lower level restaurant that sits on a terrace overlooking the sea. A particularly memorable dinner was an entire sea bass cooked in a salt crust, which was expertly opened and filleted tableside by our waiter.
Deus Neptunus
Another amazing meal was had on the terrance of Deus Neptunus, the seafood made even tastier by the magnificent views and proximity to the sea. Ask to be seated on the open-air terrace and enjoy the night air and the views of the bay of Sant'Angelo.
Bracconiere
We knew that in addition to seafood, Ischia is famous for its rabbit, so on a rainy afternoon we grabbed a cab and travelled to up into the hills to Ristorante Bracconiere, a rustic, mountain-top restaurant famous for its hearty appetizers and its outstanding rabbit dish, coniglio all'ischitana.
Ischia is famous for its thermal baths and spas, and while the big hotel and spa scene is not the vacation we were looking for, as a final treat at the end of our stay splurged and spent a day at Giardini Poseidon Terme, or the Poseidon Gardens and Thermal Baths. Featuring over twenty natural pools fed by thermal waters, three sea water polls, a thermal steam grotto, and three Kneipp hydrotherapy pools, the Poseidon Gardens is the largest thermal park in Ischia. In addition to the thermal pools and treatments, there is a private beach and three outstanding restaurants, all in lush greenery and beautiful scenery.