Polignano a Mare is the perfect place for the seaside summer vacation, a cherished ritual among Italians. Located thirty minutes south of Bari on the southern Adriatic coast in Puglia, Polignano a Mare is a delightful town known for its dramatic scenery, iconic beach, and excellent dining.
When we visited Polignano a Mare with our sons and Stefano's mom, Maria, a few summers ago, we stayed in vacation rentals in the town's the historical center, a maze of narrow streets, whitewashed buildings, and piazzas lined with bars, restaurants, gelaterias, and shops. It's a small enough place that everyone could do their own thing and easily meet up later in the day, but there is still plenty to see and experience. Here is how we spent our days.
Join the beachgoers at Lama Monachile
Also called Cala Porto by the locals, Lama Monachile is a sliver of rocky beach tucked between high cliffs right next to the town, creating a delightful backdrop for photos. The more adventurous jump off of the cliffs into the sparkling turquoise sea below, while others just enjoy swimming in the crystal clear water. A few tips: it's a public beach, with no beach chairs or umbrellas to rent. The beach is rocky, so be sure to wear appropriate footwear. For the best view of the beach and an Instaworthy photo, stroll to Terrazza Santo Stefano in the village.
Take a stroll through the historical center
The gateway to Polignano a Mare's centro storico is Arco Marchesale, also known as Porta Grande. Inside the archway is Piazza Vittorio Emanuele II with its clocktower building, Palazzo del Orologio and Chiesa Santa Matrice – Church of Santa Maria Assunta. Work your way through the alleyways toward Terrazza Santo Stefano, noticing the poems inscribed on the towns stairways and walls as you go. Take a quick visit to the statute of Italian singer-songwriter Domenico Modugno and break out in a spontaneous rendition of Volare, his most famous song. Go shopping along Via Roma, stroll through Piazza San Benedetto, and stop by the scenic overlook of Grotto Palazzese at the end of Via Gelsomino off of Via Tritone.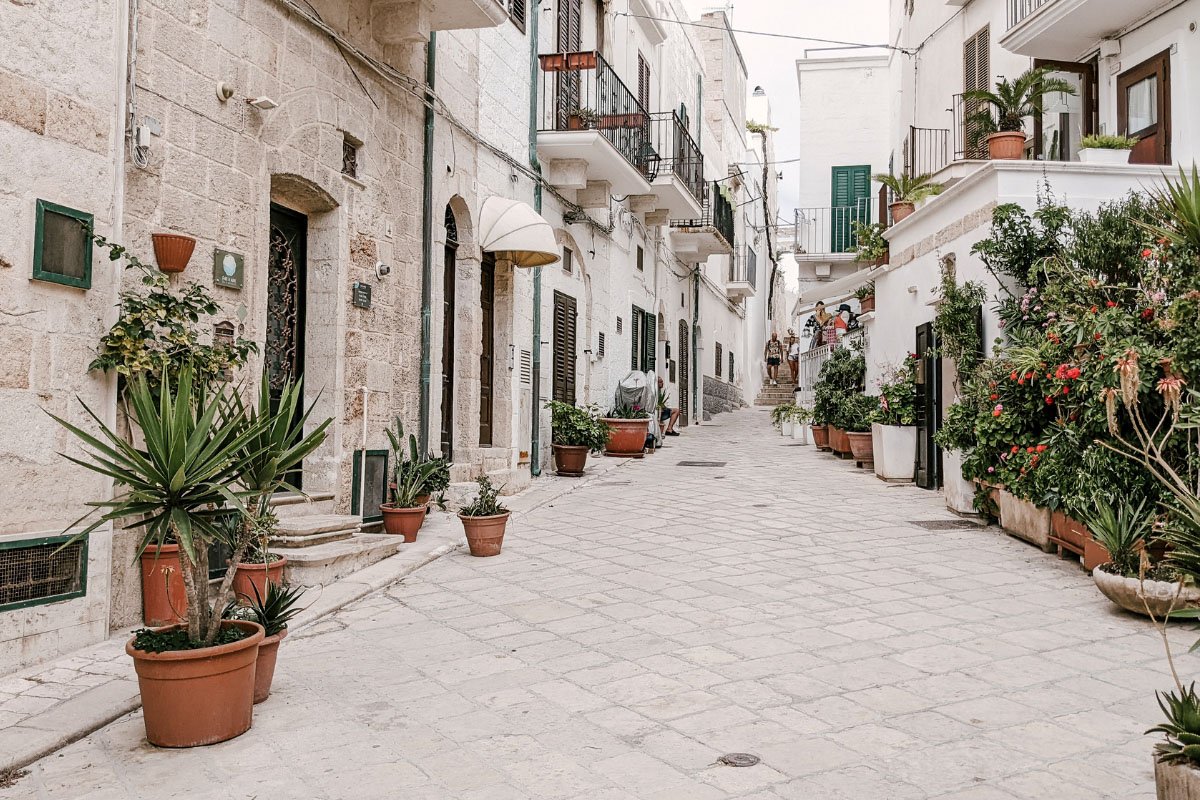 Enjoy amazing seafood
Polignano a Mare has amazing seafood restaurants and eateries, from casual to fine dining. For a quick but delicious lunch, head back out of the Arco Marchesale to nearby Piazza Aldo Moro where you will find Pescaria, an amazing fast-casual place serving up seafood sandwiches and more. We had a great meal with friends on the terrace at the restaurant inside Hotel Covo dei Saraceni, where the fresh, raw seafood at the crudo bar stole the show. For a splurge, make reservations at Grotta Palazzese, the stunning restaurant built into a cave on the water, located in the hotel by the same name. Our pugliese friends tell us not to bother – there are many less expensive restaurants with even better food in Polignano a Mare. It's such a captivating place, though, that it's worth at least one visit.
Take a day trip to nearby towns
If you have the time and are ready for a chance of scenery, hop in the car or arrange a tour to one of several nearby villages.
The small town of Alberobello is known for its cone-shaped trullo houses. Stroll the steep, narrow alleyways of the town lined with shops and small restaurants, or take part in a walking tour with food or olive oil tasting.
Ostuni is a hilltop city with whitewashed homes just 40 minutes down the coast from Polignano a Mare. Take your time walking up the maze of narrow streets and stairs until you reach Piazza Cattedrale and the Ostuni Cathedral. Enjoy a gelato or an aperitivo in the piazza before working your way back to Piazza della Libertà at the bottom of the hill.
Just down the road from Alberobello is the slightly larger, spledid Martina Franca. The biggest village in Valle d'Itria, Martina Franca is known for its Baroque-style historical center, filled with wrought-iron balconies and grandios façades. Take a walk through the old town and be sure not to miss the Basilica di San Martino, or schedule an architectural walking tour.