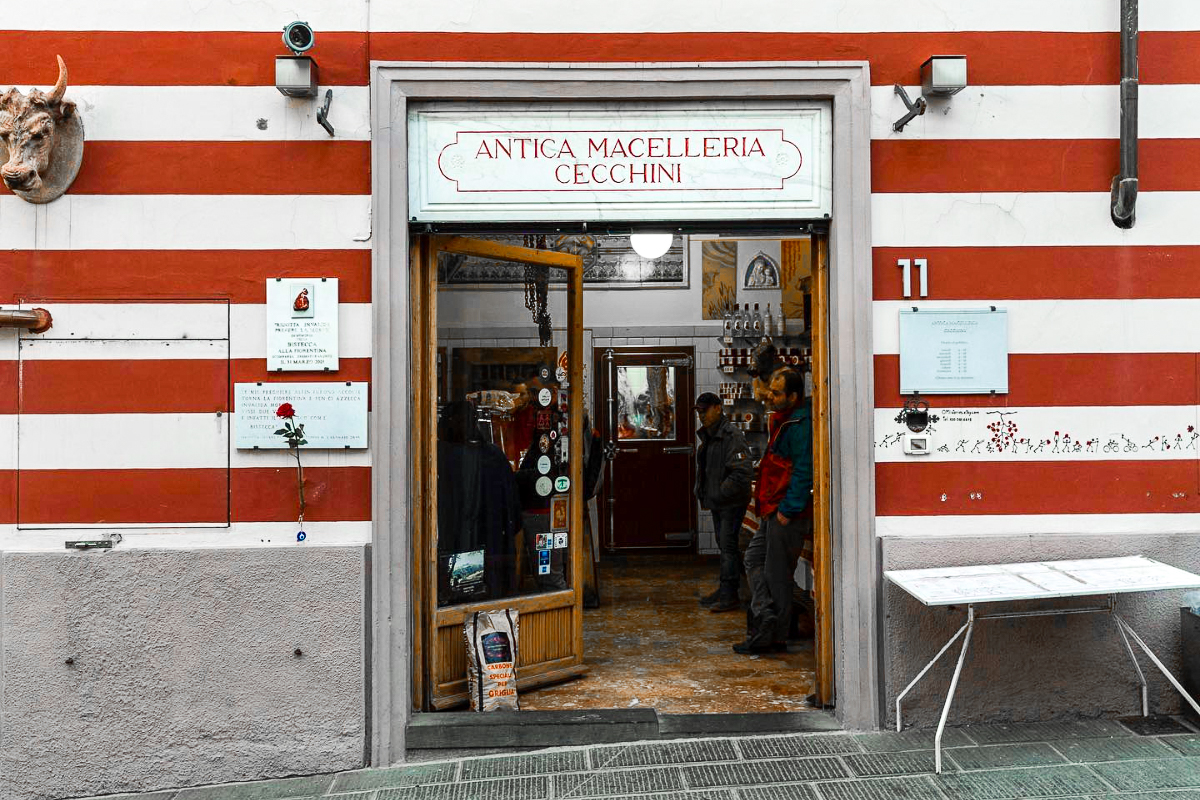 A few years ago, Stefano was in New York City for a wine event and he met Dario Cecchini, the famous butcher from Antica Macelleria Cecchini in Panzano in Chianti, Tuscany. Mr. Cecchini had been flown to New York as a featured chef for the event. Stefano was immediately drawn to this man with a large personality and a passion for meat. Upon returning home, he told me that the next time we are in Tuscany, we have to stop in Panzano to say hello and eat at his restaurant.
Abandon hope all ye who enter, for you are now in the hands of a butcher
Dario Cecchini is an eighth-generation butcher. Reflect on that for a moment…eight generations roughly equates to two hundred years, so the Cecchini family has been in the butcher business since the early 1800s. That's a long time to improve one's craft. Cuts of meat are different in Italy than they are in the US and in other countries, and true to the Tuscan tradition, Cecchini uses each part of the animal, matching the cooking style to bring out the best flavor in each piece of meat. He says on his website, "My way of paying respect to the animal, its life, its death, is using everything down to the last tendon with responsibility. This is what I have been doing every day for more than 48 years: I am a butcher from nose to tail."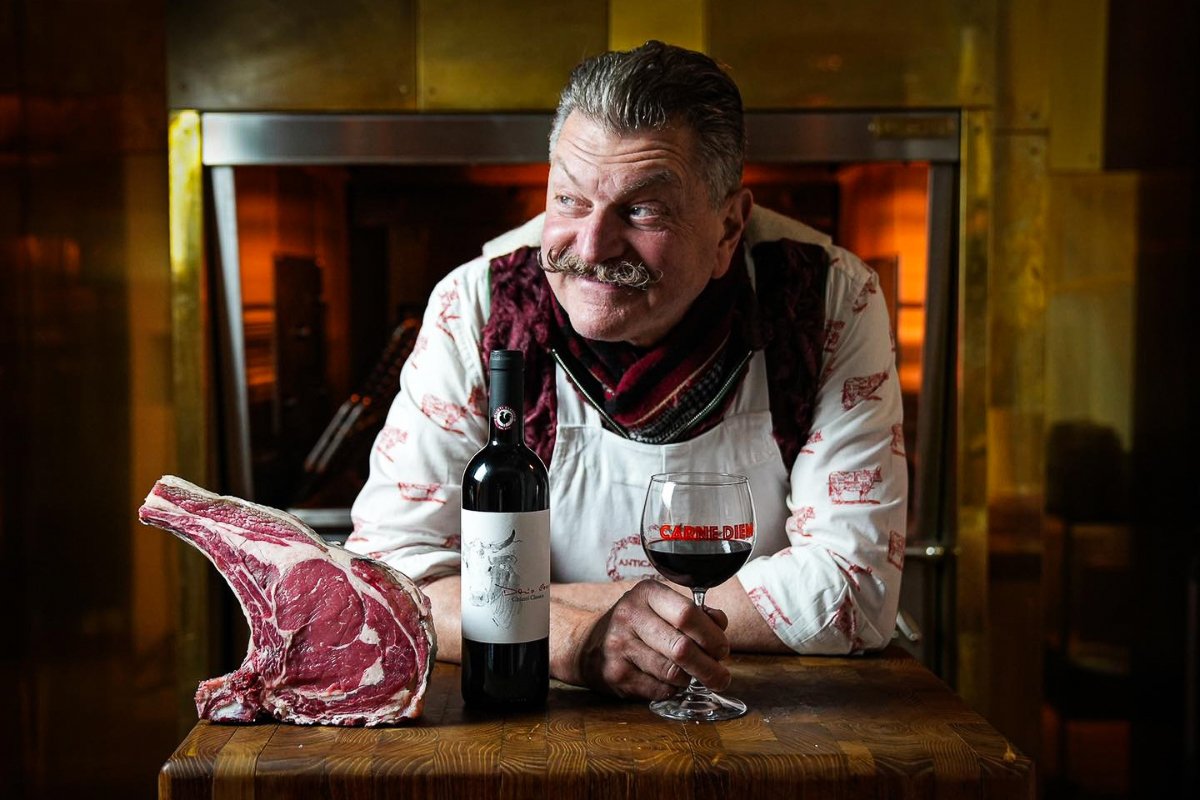 Dining at Antica Macelleria Cecchini is a memorable experience. Priding themselves on warm hospitality and bringing people together, the restaurant offers three different fixed-price meal options, each served at large, communal tables where you can chat with fellow diners between the many courses, served by wait staff who are both enthusiastic and entertaining. Arrive hungry and with nowhere to get to afterward – you'll want to sit back, relax and enjoy the evening.
Panzanese
The Panzanese is perfect for those who love grilled meats. Available at both lunch and dinner, the Panzanese starts off with a beef tartar, followed by a seared rump carpaccio, before moving on to as much Panzanese grilled steak as you can eat, served alongside traditional Tuscan white beans dressed in olive oil. Pinzimonio (raw vegetables with olive oil for dipping) adorns the tables, baskets of Tuscan bread are regularly re-filled and, little dishes of seasoned salt allow you to season your meat to your liking. The meal ends with a slice of olive oil cake, an espresso and a shot of grappa.
Solociccia
The Solociccia is a more robust meal served only at lunch that features braised, broiled and grilled meats, often less common cuts prepared in traditional fashion. Each diner chooses as many or as few dishes as preferred from a menu of six or seven offers, that may include roasted beef brisket, spicy meat ragù crostini, boiled beef and vegetables, and seared beef rump skewered on a rosemary cutting, hilariously translated on their menu as "rosemary up the bum." All of this is served with the classic Tuscan white beans in olive oil and table dressings mentioned above. Dessert is a mocha olive oil cake, espresso and grappa.
Officina della Bistecca
The most abundant, adventurous, and expensive of the meals, the Officina is served at both lunch and dinner and features cuts of meat from the entire animal. Beef tartar is served, followed by seared rump carpaccio, and then "Checchini signature cuts." After whetting their appetites with these starters, diners are served Panzanese steak, and then either Costata or Bistecca Fiorentina, impressive cuts of the highest quality steak. Baked potatoes are served along with the Tuscan white beans in olive oil, and diners are offered burro del Chianti (Chianti butter). This meal also ends with mocha olive oil cake, espresso, and grappa.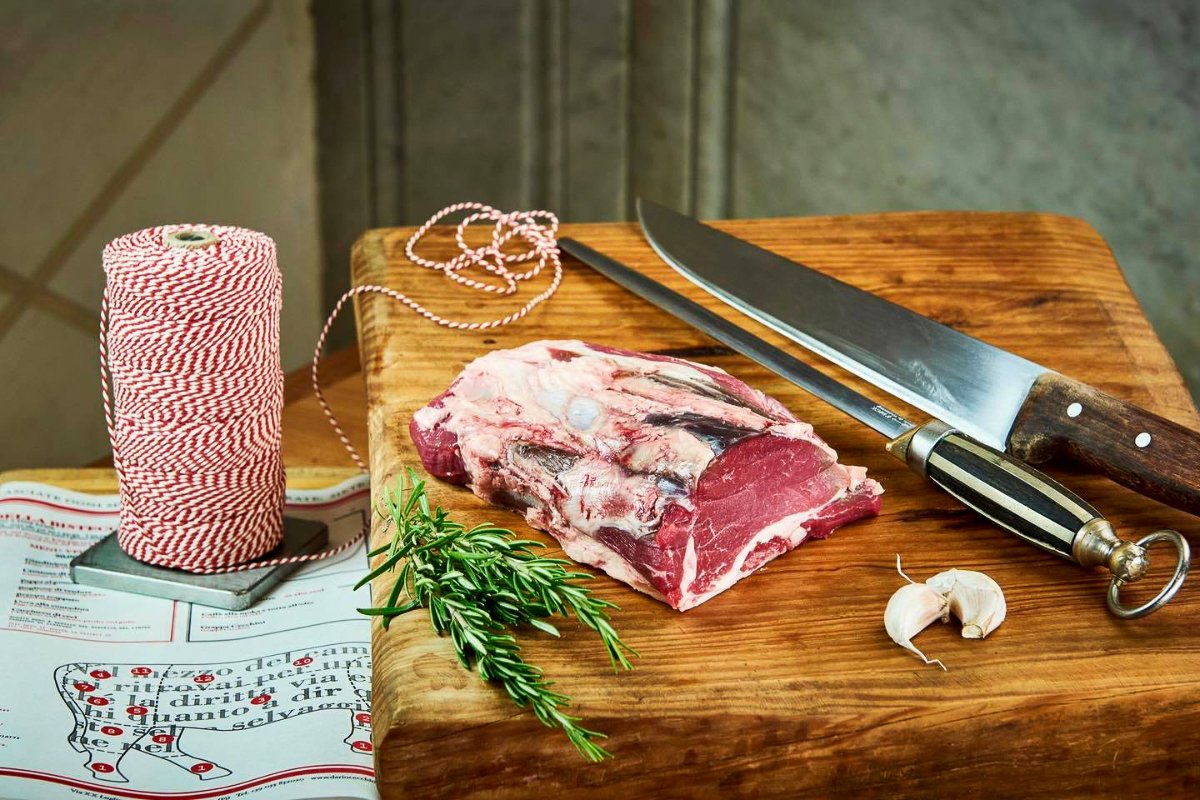 What to know before you go
Walk-ins are accepted, but given the growing popularity, reservations are recommended and can be made online at Antica Macelleria Cecchini. Navigate to Kitchen on the menu bar, and then choose the meal you prefer: Panzanese, Solociccia or Officina. Children under 9 and adults over 90 pay half price. Do refer to the website, as menus, prices and terms may change.
Plan to arrive early or stay late to shop in the store. You'll need to return to Panzano to eat meat as good as this again, but you can bring home a little taste of Cecchini's in the form of jars of spreads, seasoning salt, and olive oil.