It happened again. At a party last weekend, we found ourselves in conversation with friends who are planning a trip to Italy's Amalfi coast and who want our thoughts on how to get there and how to move around once they reach the coast. There is a plethora of information online about the Amalfi coast and what to do and see while there, but there's little information about how to drive on the coast.
The Amalfi Coast, or costiera amalfitana, is one of our favorite places in Italy. The dramatic mountain cliffs rise up against the emerald-blue sea sparkling in the sunlight below. Pastel-colored villages carved into the mountainside shine vibrantly against the landscape, while scented lemon groves and a salty sea breeze fill the air.
You can arrive by a combination of train and bus, and take the big blue SITA buses from town to town, but let's be honest – hauling luggage around and navigating public transportation schedules takes the joy out of the travel experience. You can also hire a private driver, but wouldn't you rather spend that money on restaurants, lodging and shopping? For this reason, we recommend driving.
The drive along this spectacular coastline is simply breathtaking. It's not, though, for the faint of heart. With steep rock on one side and a dramatic drop to the Mediterranean on the other, the narrow road clings to the mountain and follows the twisting shoreline, resulting in winding roads and sharp curves. Equipped with a sense of adventure and some solid advice, you can drive the coast and experience one of the most beautiful drives in the world.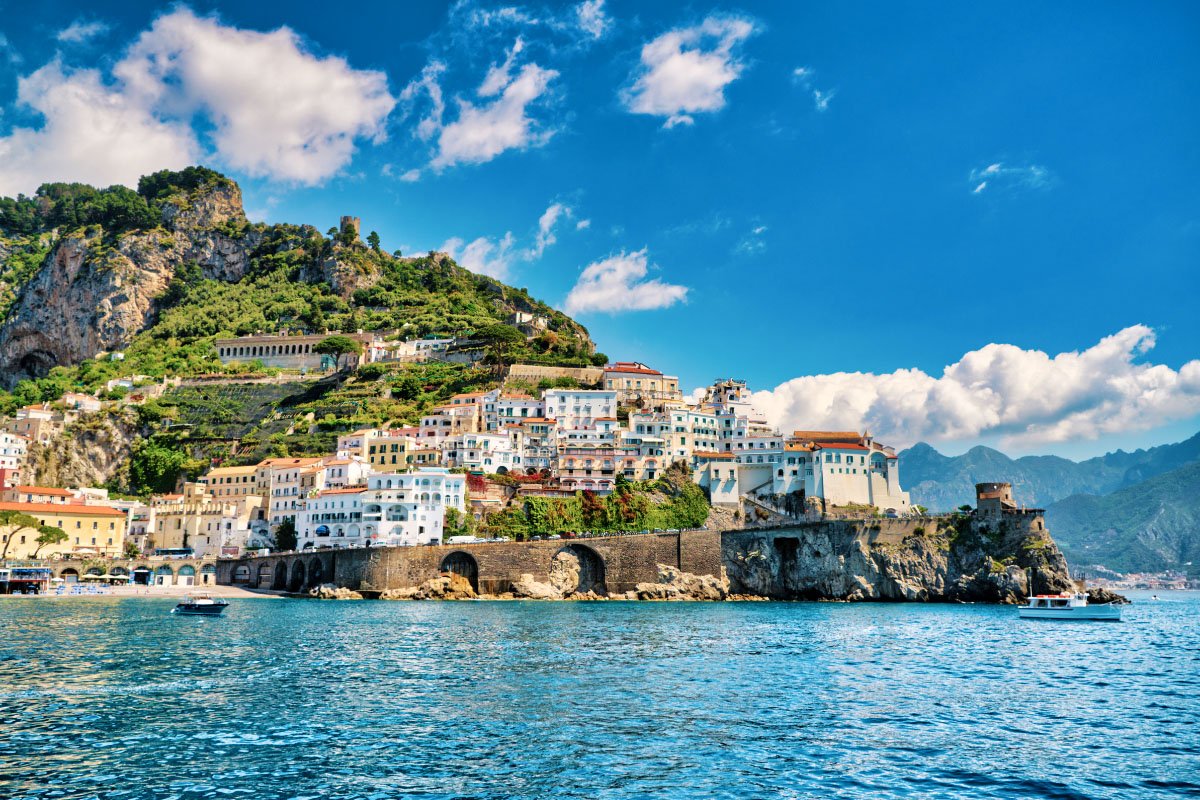 Location
The Amalfi Coast is the 60 km (37-mile) stretch of coastline between Sorrento and Salerno, located just south of the Bay of Naples. The most charismatic part of the coast is between the cities of Positano and Vietri sul Mare. 36 km (22 miles) separate the two cities. The driving guide below will show you how to arrive in Vietri sul Mare, travel north to Amalfi with a stop in Ravello, then on to Positano, before catching the autostrada north to Naples or Rome.
Directions to Vietri sul Mare
Arriving from Rome or any other northern Italian city, take the Autostrada A1 south toward Naples. Just past Naples, exit onto the Autostrada A3 headed toward Salerno-Reggio Calabria. Follow the A3 past Mount Vesuvius, the volcano whose eruption in AD 79 buried the cities of Pompeii and Herculaneum, to the Vietri sul Mare exit. Follow the road down to toward the city of Vietri sul Mare. As you drive down the hill, you will have your first glance at the sea down below. As you enter the town of Vietri sul Mare, you will see a municipal parking lot. If space is available, this is your best parking option. There is a parking ticket machine at one end of the lot. Pay in advance and place your ticket on your dashboard. If there is no available space in the lot, look for street parking.Vietri sul Mare to Positano, with stops along the
Vietri sul Mare to Positano, with stops along the way
Leave Vietri sul Mare and proceed west along the coastal road through the villages of Maiori and Minori, stopping for a caffè or a gelato if you wish, and on towards Amalfi. When you arrive at the village of Castiglione, turn right and follow Via Castiglione up the mountain to the city of Ravello, overlooking the Amalfi Coast and the Tyrrhenian Sea below. When you're ready to leave, hop back in the car and take Via Castiglione back down to SS163, the official name for the coastal road, and proceed toward Amalfi. As you enter the town you will see several municipal parking lots near the shore, often with city traffic officers directing tourists into parking spaces. Be prepared to pay the high parking fees – there simply is no alternative. After you've seen Amalfi and hopefully bought some limoncello and even some fresh canned tuna packed in olive oil, pile back in the car, get back on SS163 and head toward Positano, a 40-minute drive, unless you stop for a caffè in the town of Praiano. Arriving in Positano, be prepared that parking is challenging. If you plan to spend the night, be sure to find a hotel that offers parking. In the best case scenario, you will pull off on the side of the road in front of your hotel, go in to check in, and hand your keys over to a valet, and not worry about your car again until you are ready to leave Positano. Otherwise, you may get lucky and find street parking, otherwise be prepared to pay top dollar for one of the parking garages in town.
Leaving Positano
When you are ready to leave Positano and end your stay on the Amalfi coast, get back onto the coastal road SS163 and follow it west. It will eventually take you inland in the direction of Sorrento. Follow the signs to Sorrento; the road will eventually turn into SS145. Stop and stay in Sorrento for a night, or follow the SS145 until you see signs for E45 Napoli/Roma. Take the E45 Napoli/Roma, which will turn into the Autostrada A1 headed toward Rome.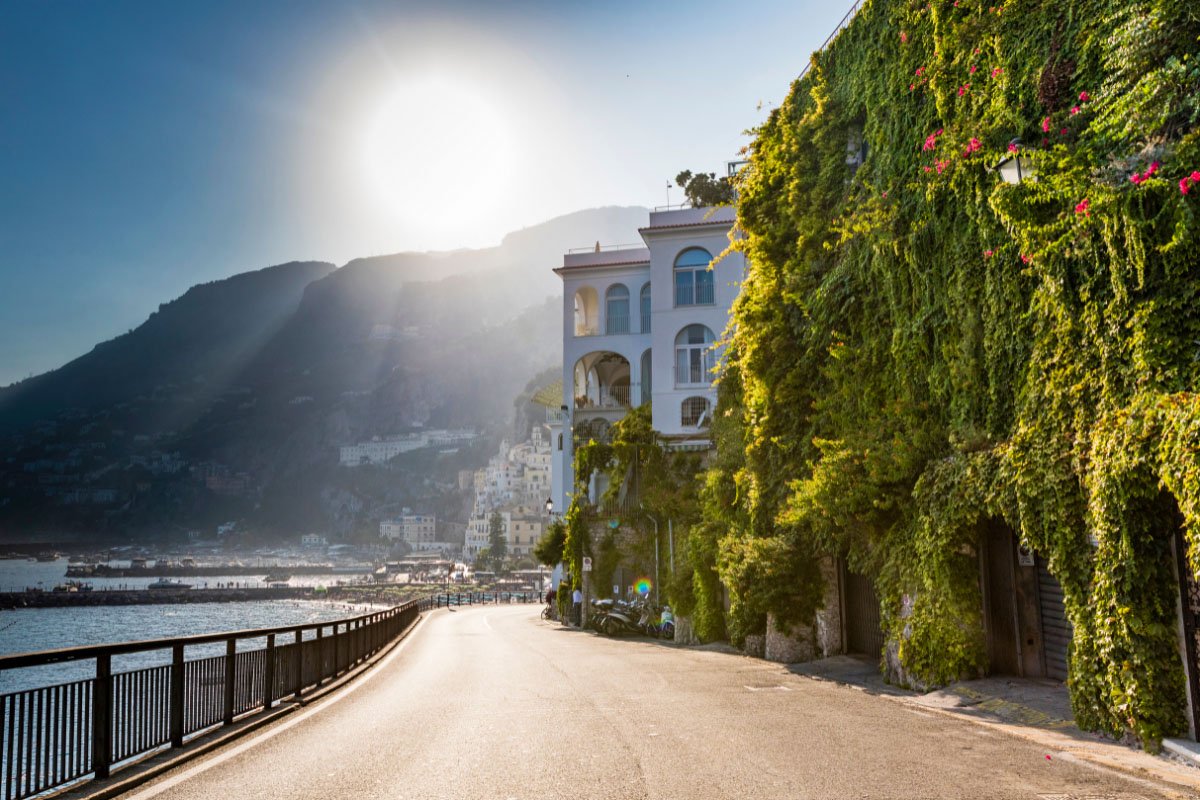 Driving Tips
By now you are enamored with the costiera amalfitana, appreciative of the flexibility that a car offers, and enticed to experience the amazing coastal drive yourself. You can; just follow the advice below.
Choose a smaller-size car. It will be easier to handle on the curves. Too much luggage is a hassle on the coast anyway.
Consider automatic vs. manual transmission. Most Italian cars have manual transmission (cambio manuale), and if you know how to drive a straight-stick, the manual transmission is a lot of fun. Be prepared, however, for frequent shifting between first, second and third gear as you speed up and slow down on the winding roads. If this isn't your thing, get a rental car with automatic transmission (cambio automatico).
Keep an eye out for the scooters. Locals, especially the youth, use motorini and Vespas to travel up and down the coast. Their driving will seem reckless to you, especially as they pass you on the right, squeezing between your car and the mountain wall. Keep your cool and stay in your lane. Don't be tempted to veer into the oncoming lane to give them space or go around them. They've driven this road hundreds of times and you haven't. They know when they fit and when they don't. Do your thing and let them do theirs.
Don't get too adventurous and rent a scooter yourself. You're not ready for that yet. If you get really good at driving the road in a car, then you could maybe consider renting a scooter.
Don't drive too fast, but don't drive too slow, either. It's very frustrating to be stuck behind a tourist who is creeping along the road, holding up traffic. This is especially frustrating for the locals.
If two of you are confident drivers, consider switching off driving. Because you are traveling north, the sea is on the drivers side. Switching drivers allows both of you to observe the amazing scenery as a passenger while the driver is paying attention to the road.
Enjoy it! You are in one of the world's most beautiful locations.
UPDATE! Alternating License Plate Number Driving Restrictions
To reduce traffic and pollution, effective April 2023 the towns along the Amalfi Coast have adopted alternative-day driving restrictions based on the final number of your license plate. Under this system, cars with a license plate ending in an odd number cannot drive the Amalfi Coast Drive on odd-numbered days, while cars with a license plate ending in an even number cannot drive the road on even-numbered days.
The restrictions are in place from 10am to 6pm during Easter week, on weekends from June 1 to September 30, and the entire month of August. It is also in effect on some holidays and long weekends between April and October.
If you are a guest of a hotel, agriturismo, bed and breakfast or other holiday house, you are allowed to drive on the planned days of arrival and departure regardless of your license plate number. Have documentation of your reservation on hand if you need to drive on one of these days.
The specifics of this rule are subject to change. Confirm driving restrictions with your lodging accommodations before visiting and contact the Amalfi Coast District Tourist Information Office at +39 089874557 for more information.