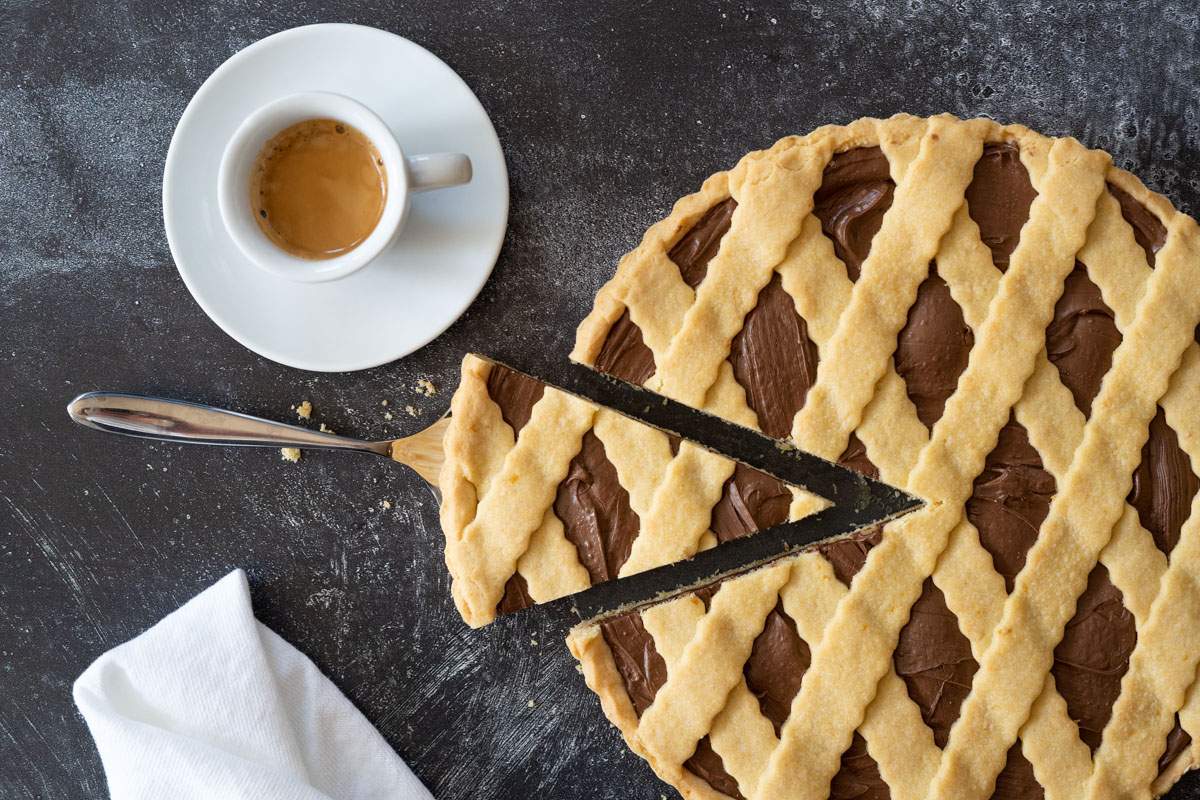 Today's recipe is an tribute to Nutella, that delicious, chocolate-hazelnut spread meant for kids but secretly loved by adults, too.
Nutella was originally a solid chocolate and hazelnut creation, and later a spread named Supercrema, created in the 1940s by Pietro Ferrero, founder of the Italian chocolate company Ferrero. At that time, cocoa was difficult to obtain due to rationing during World War II. Hazelnuts, however, were abundant in his hometown of Alba in the Langhe region of Italy, and in a case of necessity driving ingenuity Ferrero stretched his chocolate recipe by incorporating them. Nutella as we know it was created in the 1964s by Ferrero's son, Michele, who envisioned a product that could be sold worldwide.
In the 1970s when Stefano, his brother Marco and his sister Debora were growing up, Nutella was a special treat. Their mother, Maria, bought it every once in a while and spread a paper-thin layer onto fette biscottate or even better yet a piece of crusty bread as an after school snack, and when she wasn't looking, they would sneak spoonfuls of Nutella straight from the jar. At that time, Nutella was sold in glass containers with cartoon characters screen-printed onto them. Once the Nutella was gone, the container could be washed and used as a drinking glass. As children, Stefano, Marco and Debora each had their own designated Nutella glass in the cupboard.
Over time, hundreds of desserts featuring Nutella have been created. One of the most simple, and a favorite in our household, is crostata alla nutella. This is a variation of the classic Italian jam crostata, or crostata alla frutta, and it uses the same short-bread style crust as torta della nonna. We often make it as a children's dessert to accompany a more sophisticated dessert for adults, and it never fails that the grown ups grab a slice, too.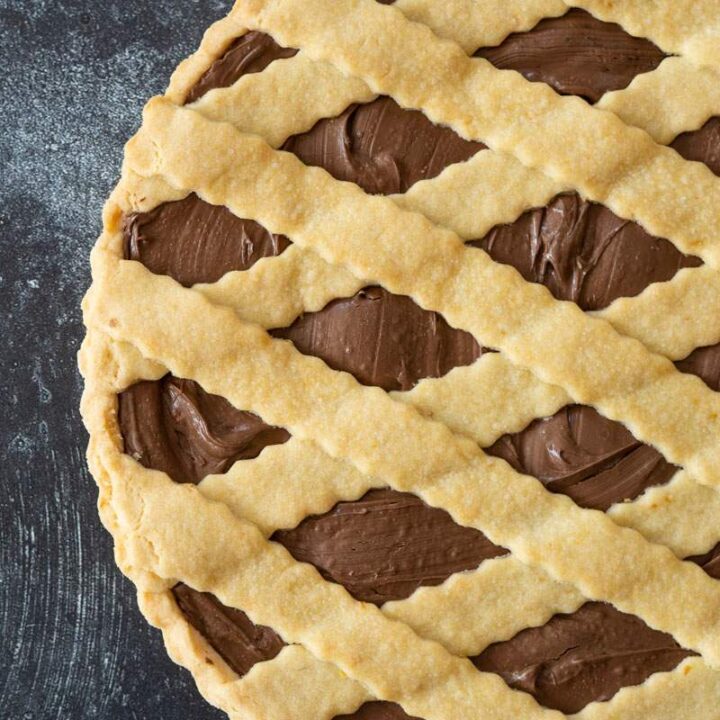 Crostata alla Nutella
Crostata alla nutella is a favorite in our household We often make it as a children's dessert, but it never fails that the grown-ups grab a slice, too.
Ingredients
200 grams flour
8 grams Lievito Pane degli Angeli
80 grams sugar
80 grams butter, cubed
1 egg
Zest of 1 lemon
13 oz. jar of Nutella
Instructions
Add the flour, Lievito Pane degli Angeli (or baking powder), sugar, butter, egg and lemon zest to a mixing bowl.
Mix on medium speed with a stand mixer until the dough is combined.
Shape into a ball, cover in plastic wrap and refrigerate for at least 1 hour.
Preheat the oven to 350° F (180° C).
Remove the pasta frolla from the refrigerator and separate it into two pieces – one piece made up of about 2/3 of the dough, and the second piece made up of the remaining 1/3.
Sprinkle flour onto a smooth surface and roll out the larger piece of dough until it is big enough to fill the base and sides of your tart pan.
Line the tart pan with the rolled out dough, pressing it in so that it is equal thickness on the bottom and on the sides. Trim any excess dough around the rim of the pan.
Trim any excess dough around the rim of the pan.
Use a spatula to spread the Nutella over the surface of the dough.
Arrange the strips of pasta frolla in a lattice pattern on top, taking care to seal the edges of the lattice with the crust.
Cover the crostata with aluminum foil and bake at 350° F (180° C) for 10 minutes.
Remove the aluminum foil and bake uncovered for 20 more minutes. Let the crostata cool before serving.
Notes
A fluted tart pan with a removable bottom makes for a lovely torta. If you don't have one, a spring form pan or even a pie dish will work.
2 teaspoons of baking powder can be used instead of Lievito Pane degli Angeli, if needed.
The Nutella cooks quicky and can tend to burn. If you encounter this, a few things to try are:
Use a thicker layer of Nutella.
Use a wider pieces of dough positioned closer together for your lattice, leaving less Nutella exposed.
Cover with aluminum foil for longer at the start, or recover the crostata for the final 5 minutes of baking time.