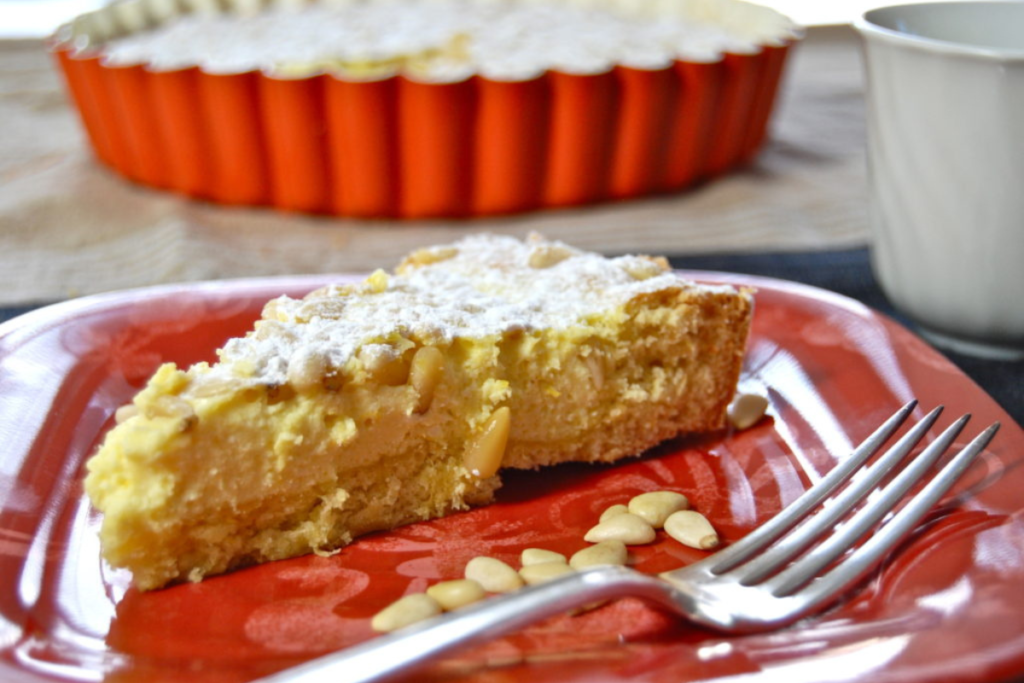 The holidays were over a month ago, and since then we've dutifully refrained from sweets in favor of healthy meals and modest portions. But five weeks is enough, right? It's the perfect weekend to turn on the oven and warm up kitchen, to fill the house with the fragrant, lemony-sweet aroma of pasta frolla baking, and to bring our Sunday evening to a close over a delicious and delicate homemade torta.
Torta is a tricky word to translate. Sometimes it means cake, and when it does, it is pretty straight-forward. Other times, a torta is closer to a tart or a pie. Torta della Nonna falls into this latter category. Prepared in a tart pan, it has a base of pasta frolla, followed by a creamy filling, and topped with pine nuts.
Pasta frolla is common crust or base for many Italian baked goods. Often referred to as a sweet short crust pastry, a good pasta frolla will be golden, soft and just slightly crisp, and it will have a delicate, not-too-sweet flavor.
There are different versions of the filling for Torta della Nonna. Traditionally, the recipe calls for crema pasticcera, or Italian pastry cream, with a second layer of pasta frolla on top. However, an alternative version calls for a ricotta-based filling. Being amanti of ricotta-based baked goods, this our preferred method of preparation. In all cases, Torta della Nonna is adorned with a layer of pine nuts before baking, and then a sprinkling of powdered sugar upon exiting the oven.
As we've said before, Italian pastries and baked goods are lighter, more delicate and less sweet than desserts in many other countries of the world. In Italy, homemade baked goods are also characterized by simple, high quality ingredients. Torta della Nonna, which mean's Grandmother's Tart or Grandmother's Pie, is a perfect example of this. For our Torta della Nonna we used organic, cage-free eggs, Caputo Italian type-00 flour, extra-fine sugar, and fresh, whole milk ricotta.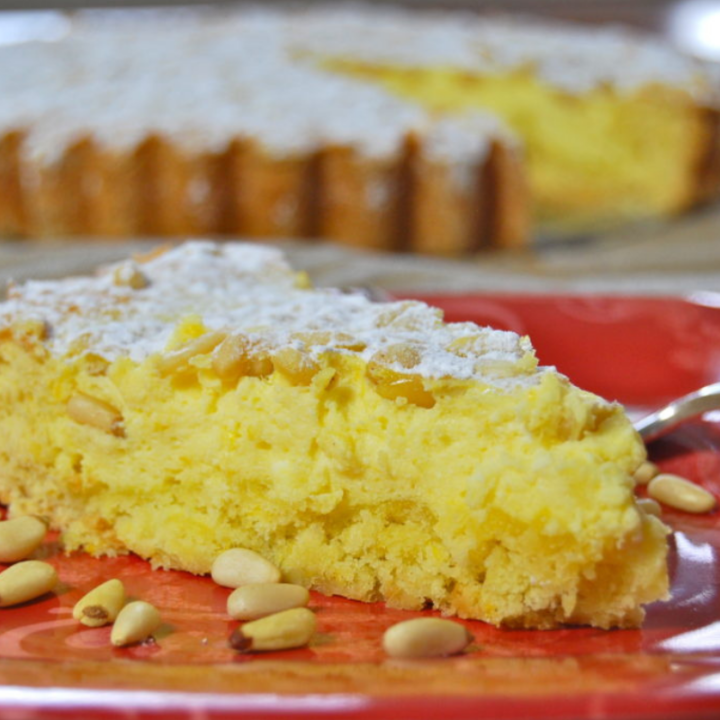 Torta della Nonna
Our version of torta della nonna, which means Grandmother's Tart in Italian, is made with pasta frolla, fresh whole milk ricotta, and pine nuts.
Ingredients
For the pasta frolla
200 grams flour
8 grams Lievito Pane degli Angeli
80 grams sugar
80 grams butter, cubed
1 egg
Zest of 1 lemon
For the filling
250 grams fresh whole milk ricotta
2 eggs
80 grams sugar
Zest of 1 lemon
40 grams pine nuts
Garnish
Instructions
Add the flour, Lievito Pane degli Angeli (or baking powder), sugar, butter, egg and lemon zest to a mixing bowl.
Mix on medium speed with a stand mixer until the dough is combined.
Shape into a ball, cover in plastic wrap and refrigerate for at least 1 hour.
Preheat the oven to 350° F (180° C)
Mix the ricotta, eggs, sugar, corn starch, and lemon zest together with a wire whisk until smooth.
Butter and flour a 9-11 inch or 26-28 cm. fluted-edge tart pan.
Remove the pasta frolla from the refrigerator.
Sprinkle flour onto a smooth surface and roll out the larger piece of dough until it is big enough to fill the base and sides of your tart pan.
Line the tart pan with the rolled out dough, pressing it in so that it is equal thickness on the bottom and on the sides. Trim any excess dough around the rim of the pan.
Trim any excess dough around the rim of the pan.
Pour the filling into the shell, and sprinkle the pine nuts over the top.
Bake at 350° F (180° C) for 30-35 minutes, just until the center is firm and does not wiggle when you gently shake the pan.
When the torta is cool, use a tea strainer to sprinkle a layer of powdered sugar on top.
Notes
A fluted tart pan with a removable bottom makes for a lovely torta. If you don't have one, a spring form pan or even a pie dish will work.
2 teaspoons of baking powder can be used instead of Lievito Pane degli Angeli, if needed.