Nonna Pierina was a very good cook.
Pierina was was born in 1922 into a poor, farming family in Piglio, a small village in the Apennine mountains about 50 kilometers east of Rome. She married Nonno Mario in 1943, wearing a simple dress and home-made shoes constructed of cardboard, which unfortunately did not hold together in the rain that fell. World War II arrived a few years later and Nonno Mario was often away, having joined other pro-Allies partigiani, partisan fighters in the Italian Resistance Movement opposed to the occupying German forces and the Italian Fascist regime.
During that period of hardship, when food was scarce and medicine was simply unavailable, Nonna Pierina lost her first two children during their infancy. Later, she was blessed with the birth of two daughters, Stefano's mother Maria, and his aunt, Ivana. In the early 1960s, when Maria was nearly a teenager, Pierina and Mario moved to the outskirts of Rome, and began life in the city.
All along, Nonna Pierina cooked. Her style was simple and rustic. She made homemade fettuccine and gnocchi and dressed the with a simple ragù, or a with a sauce made with the wild fowl and game that Mario hunted. She could identify edible forest mushrooms and made sauce with those, too. She knew all of the field greens native to her birthplace, like cicoria, cime di rape, ramoracce, and others that would require a field guide to identify and translate, and could cook them up like none other. Later, when she and Mario bought a small plot of land in the pianura pontina, reclaimed marshlands about a kilometer away from the Mediterranean Sea south of Rome, she gathered snails and cooked them in a savory sauce. was always baked perfectly, with a crisp and chewy top.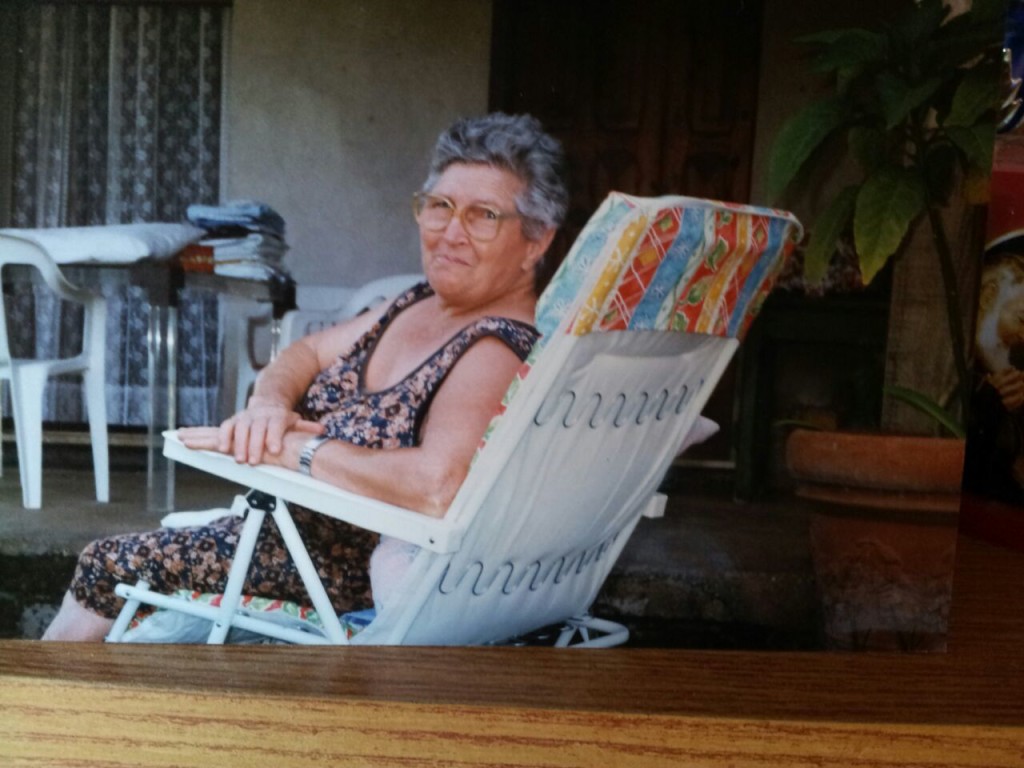 Nonna Pierina's Baked Pasta
Nonna Pierina's pasta al forno calls for rigatoni and a meat sauce enriched with peas, hard-boiled egg, and prosciutto cotto along with the usual mozzarella and Parmigiano Reggiano.
Ingredients
For the sauce
1/2 medium onion, diced
1 medium carrot, diced
1 celery stalk, diced
Extra-virgin olive oil
1 lb ground beef
12 oz frozen peas
2 cans (28 oz each) whole San Marzano tomatoes
Salt to taste
For the baked pasta
1 box rigatoni
250 grams thinly sliced deli ham
4 hardboiled eggs
8 oz. fresh mozzarella
1 cup Parmigiano Reggiano, grated
Instructions
Prepare the sauce
Dice the carrot, celery, and onion and saute in olive oil over medium heat for t3-4 minutes until the onion becomes translucent.

Add the ground beef, allowing it to brown slowly, using a spatula to break up the meat so that the beef crumbles and cooks finely.

When the meat is cooked, add the peas and let cook for a few minutes. Turn up the heat, add the wine and let it cook off.

Add the tomatoes, passing them through a food mill to produce a smooth sauce.

Salt to taste, bring to a simmer, and cook uncovered on low heat for 45 minutes or more stirring occasionally. If the sauce thickens too much, add a little water. When done, remove from heat and allow the sauce to cool slightly. Set the sauce aside.
Prepare the cheeses, egg and ham
While the sauce is cooking, drain the mozzarella (if in water) and cut it into small pieces, place it into a bowl, and set it aside.

If your Parmigiano Reggiano is not grated, grate it now and set it aside.

Cut the hard boiled egg into small pieces, place the egg into a bowl, and set aside.

Dice the ham, place it into a bowl, and set it aside.
Cook the rigatoni
Bring a large pot of water to boil, toss in a heaping handful of salt, and cook the pasta to al dente according to instructions.

Drain the pasta well, then return it to the pot. Stir in a few ladles of sauce to keep it from sticking.
Assemble and bake
Preheat the oven to 180° C, or 350° F.

Arrange your workspace so that the sauce, pasta, cheeses, egg and ham are within easy reach of your baking pan.

Using a ladle, spoon a shallow layer of sauce at the bottom of the baking pan, just enough to cover the surface.

Add a layer of rigatoni, and cover again with sauce.

Add 1/3 of the egg, ham, mozzarella and Parmigiano.

Add another layer of rigatoni, cover again with sauce, and then again add another 1/3 of the egg, ham, mozzarella, and Parmigiano.

Repeat for one final layer.

Bake uncovered for approximately 30 minutes, until the cheeses on top are brown and the rigatoni is crispy.

Allow the pasta al forno to sit for 15 minutes before serving.
Notes
When serving, use a kitchen scissors to cut through the top layer of cheese and pasta, and then use a spatula or a knife to cut through to the bottom or the pan.
If you prefer, the assembled pasta al forno can be frozen unbaked. Allow it to thaw before baking.