For seafood lovers like ourselves, our recent trip to Sicily was culinary nirvana. At Bed & Breakfast Mammaliturchi we feasted on one amazing meal after another, each prepared authentically with passione and pride by hosts Cico and Lola.
We devoured:
Spaghetti al nero de seppia (spaghetti with black squid Ink)
Spaghetti alle vongole (spaghetti with clams)
Pasta ai gamberi rossi (pasta with shrimp)
Cozze al pomodoro (mussels in tomato broth)
Ostriche gratinate al forno (baked oysters with breadcrumbs)
Spigola arrosto (grilled sea bass)
Grigliata di pesce (grilled seafood)
Gamberi rossi al pomodoro (shrimp in tomato sauce)
One of our favorite dishes, Spaghetti al pesce spada con pistacchi (Swordfish Spaghetti with Pistachio), captured the essence of Sicily by uniting of freshly caught swordfish with ground Sicilian Bronte pistachios.
Cico served the pasta with a Sicilian white wine, Inzolia of the Principe di Corleone winery. He generously shared his recipe with us to pass along to our Due Spaghetti readers.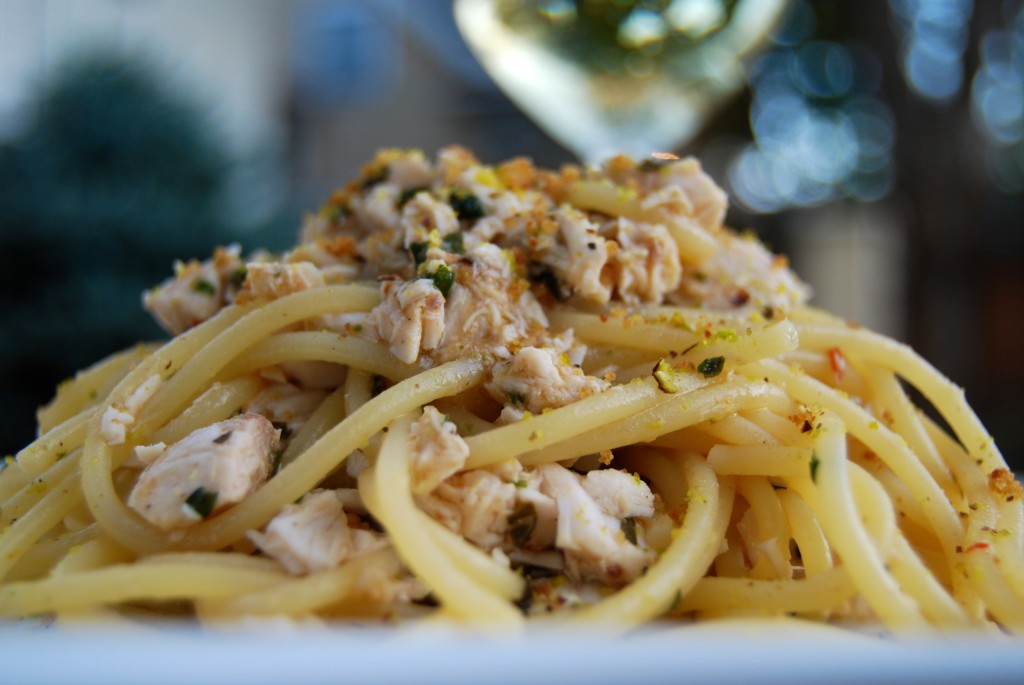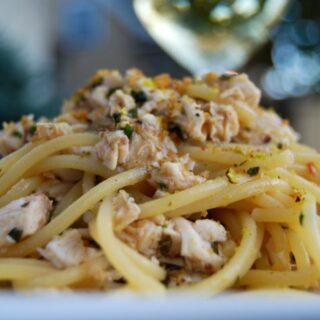 Spaghetti con Pesce Spada - Swordfish Spaghetti
Spaghetti al pesce spada con pistacchi captures the essence of Sicily by uniting freshly caught swordfish with ground Sicilian Bronte pistachios.
Ingredients
1 package of spaghetti
2 fillets of swordfish, preferably fresh caught
Extra-virgin olive oil
3 cloves garlic
3-4 cherry tomatoes
1 bunch Italian parsley
Ground black pepper
Salt
Crushed red pepper
Dry white wine
Toasted bread crumbs
Ground Bronte pistachios
Instructions
Dice the swordfish into small cubes. Set aside.
Mince the garlic and the parsley. Add each to a large skillet (big enough to accommodate the cooked spaghetti), along with a few tablespoons olive oil, a half-cup of water, a few dashes of ground black pepper, a few dashes of salt, and crushed red pepper to taste. Sauté over medium-low heat for several minutes.
Add the cubed swordfish and the white wine and simmer for about 5 minutes, adding more white wine only if needed.
Remove the swordfish and set aside.
Slice the cherry tomatoes and add them to the skillet. If you have dry grated tuna roe, add a pinch or two. Let cook for 5-10 more minutes, pressing on the tomato until it deconstructs. Add more white wine and simmer to make a sort of reduction sauce.
Add a tablespoon or two of crushed pistachios and another tablespoon or two of toasted bread crumbs, and a tablespoon or two of olive oil.
Return the swordfish to the skillet, mix everything well, and turn off heat.
Cook the spaghetti in salted, boiling water according to the directions on the package. When al dente, remove immediately and drain well, saving one cup of the cooking water.
Add the spaghetti to the skillet, turn the heat to high, and toss the pasta with the swordfish mixture, adding the cooking water gradually if needed to provide moisture.
Serve immediately with a dusting of bread crumbs and ground pistachio.
Notes
Quickly toast plain, unseasoned breadcrumbs on in a small amount of olive oil, and minced garlic. To make it extra special, add grated tuna roe (bottarga di tonno) to the sautè. Remove from heat, let cool, and store in an air-tight container.
Bronte pistachios are a high quality Sicilian pistachio grown in the region of Bronte. If needed, regular pistachios can be used and ground at home in a food processor.