Minneapolis to Frankfurt. Frankfurt to Rome. A loud and crazy birthday party in Rome for three splendid 5-year-olds, and then we were off to Catania.
With Etna rising above the hilly landscape in the distance, we drove through the Sicilian inland to the Southern coast. Finally, after two or three laps around impossibly narrow roads in the tiny town of Realmonte, we arrived at our destination: Bed and Breakfast Mammaliturchi. Within 5 minutes of our arrival, we knew it would be worth every minute and every mile of that long journey.
Francesco met us at the gate, showed us our parking spot, and led us around to the vast terrace overlooking the beach, where the view of the sparkling blue sea is breathtaking. The sound of the waves crashing against the shore washed our tiredness and tension away. It only got better when Francesco and his wife, Loredana, affectionately known as Cico and Lola, showed us our rooms – large and breezy with a wall of windows overlooking the Mediterranean.
In a matter of minutes, we shed our travel attire, donned our beachwear, and descended the stairs back to that marvelous terrace and the broad and quiet beach below to begin our vacation.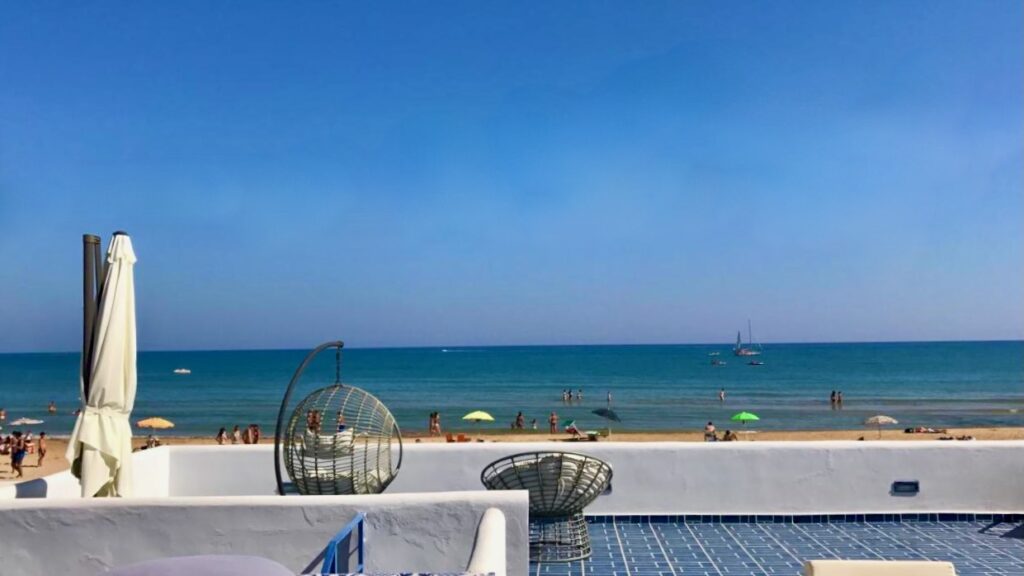 The Home
Cico and Lola's dazzling white stucco seaside home is trimmed in brilliant blue, a color scheme that mirrors the sand, sea, and sky and is reflected in the tasteful, modern, and playful decor throughout. Every convenience is available – parking, laundry, wi-fi, and even air conditioning, although despite it being July, we never needed it due to the comfortable sea breeze that gently blew through the windows at night. The home offers direct, private access to the beach, a shower to rinse off in, and breakfast, lunch, and dinner are served on the beautiful patio.
The Location
B&B Mammaliturchi is located on a quiet stretch of the Southern Sicilian coast. It is a 5-minute walk along the beach to Scala dei Turchi, a fascinating geological formation of chalky white limestone cliffs, shaped like a staircase. Scala dei Turchi translates to Staircase of the Turks, and it is from here that B&B Mammaliturchi gets its name. Legend has it that during the 16th century, when the Ottomans expanded westward into Europe, Saracen pirates, called "Turks" by the locals, arrived by ships to the southern coast of Sicily. They found it convenient to anchor up against these cliffs, which served as a "staircase" for them as they debarked their ships and pillaged the surrounding villages. When the locals saw the Turks arrive, they exclaimed in fear, "Mamma li Turchi!" (Oh, mother, the Turks have arrived!)
The bed and breakfast is also located a mere fifteen minutes by car from Agrigento and the amazing archeological site Valle dei Templi, one of the most outstanding examples of Greek architecture anywhere in the world and one of Sicily's main attractions.
Finally, if you can bear to pull yourself away from the slice of paradise that B&B Mammaliturchi offers, the charming towns of Sciacca, Mazara del Vallo, Marsala, Trapani, and Erice are a short drive away.
The Hospitality
Without question, the amazing amenities and location of B&B Mammaliturchi are matched and even surpassed by Cico and Lola's warm and generous hospitality. Exacting yet friendly, they offer an exceptional level of service while making guests feel like old friends. They gave us tips and recommendations on local attractions and sites, including where to experience the most amazing pistachio gelato we'd every tasted, and they attended to our every need.
Each morning, we awoke to an Italian breakfast of cappuccino, espresso, juice, toast, jam, Nutella, and fresh-from-the-oven croissants served on the terrace, where we watched the morning joggers and early beach-goers in the cool, sea-side breeze. Guests are free to explore off-site restaurants and bars for lunch and dinner, but quite frankly, there is no reason to. Cico and Lola's generous, authentic Sicilian meals served open air on the terrace were a high point of our stay. Featuring seafood that Lola bought fresh off of the fishermen's boats each day, these were genuinely among the most memorable meals we've ever enjoyed.
We could not have found a better place to begin our Sicilian vacation. Cico and Lola are the perfect hosts, and the destination is nothing short of spectacular. We're already contemplating when we can return.