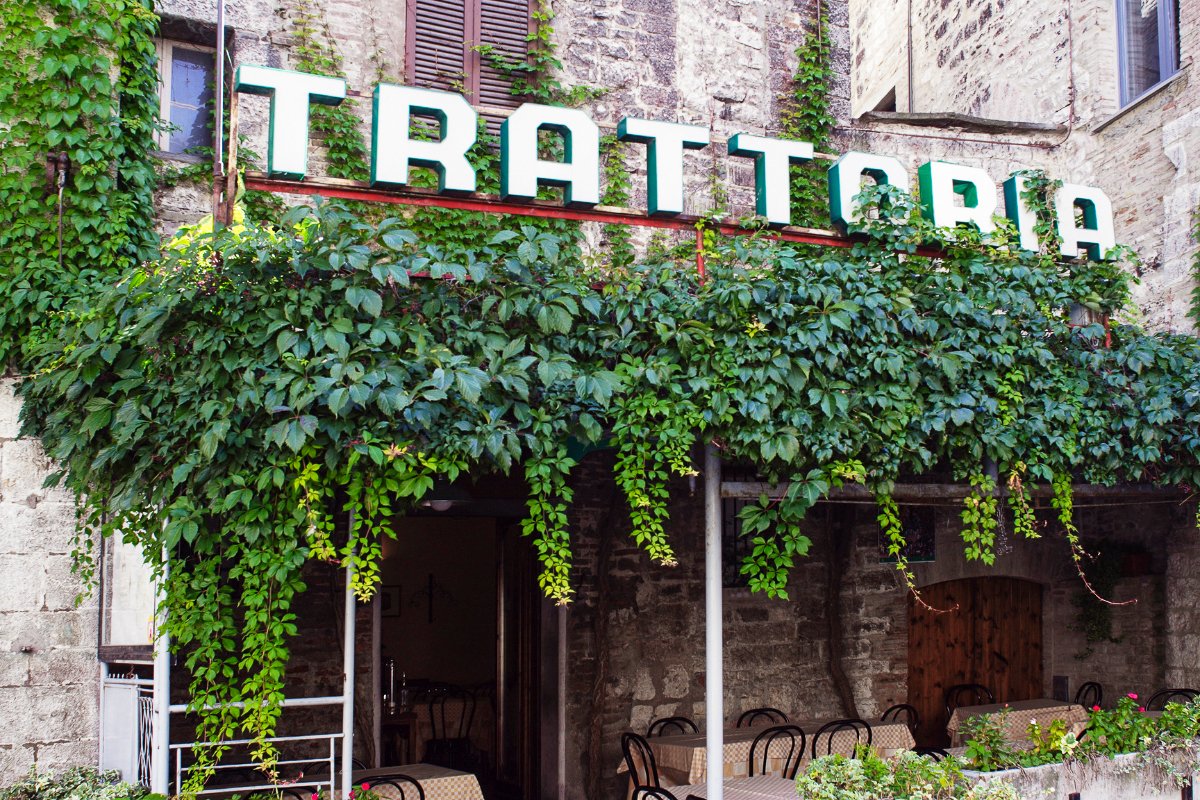 You've probably heard of them – Amatriciana, Carbonara, Cacio e Pepe, and Gricia, four classic Roman pasta dishes. There are other traditional Roman pastas – rigatoni al sugo di coda alla vaccinara, ravioli ricotta e spinaci, penne all'arrabiata, and even the quick and easy spaghetti aglio olio e peperoncino, for example. Still, these are the four quintessential and revered dishes found on the menus of osterias and trattorias across the city.
Amatriciana, carbonara, cacio e pepe, and gricia are really just four variations on a theme, all featuring Pecorino Romano cheese and all but one, cacio e pepe, using guanciale (cured pork jowel) as its base.
Cacio e Pepe
Cacio e pepe is beautifully simple with just three ingredients – pasta, pecorino and cracked black pepper. The creamy sauce is made by stirring a bit of the starchy pasta water into the Pecorino cheese and adding freshly ground black pepper. Most commonly, cacio e pepe is made with tonnarelli, long square strands of egg pasta. It is pasta at its simplest, although the technique required to render the sauce creamy takes practice to master.
Gricia
Gricia is simply cacio e pepe with the addition of guanciale. Sometimes called amatriciana bianca for its lack of tomato, la gricia is pasta dressed with crispy sauteed guanciale, Pecorino Romano, a little of the cooking water to render it creamy, and a bit of freshly ground black pepper. La gricia is sometimes made with rigatoni, but our favorite is mezzemaniche alla gricia. Mezzemaniche means "short sleeves," which these little pasta tubes resemble.
Carbonara
Carbonara is perhaps the most famous of the four pastas outside of Rome and also the most misinterpreted. The original recipe has no cream, no olive oil, and definitely no garlic. It uses guanciale, not pancetta, and Pecorino Romano, not Parmigiano (although adding a little Parmigiano to the Pecorino is accepted). In short, add whisked egg to la gricia and you have carbonara. Carbonara is made with both spaghetti and rigatoni.
Amatriciana
The only tomato-based pasta of the four, l'amatriciana is a gricia with tomato sauce. Another pasta often misinterpreted outside of Rome, l'amatriciana requires no olive oil, no garlic, and no onion. The guanciale provides all the fat and flavor needed. A dash of white wine to deglaze the pan is allowed, as is a bit of crushed red pepper if you like some heat, and a sprinkling of Pecorino Romano on top. In the classic recipe, l'amatriciana is made with bucatini – spaghetti with a hole in the middle. Bucatini are messy, though; the risk of splattering tomato on your shirt is high. For this reason, rigatoni all'amatriciana is a safer choice.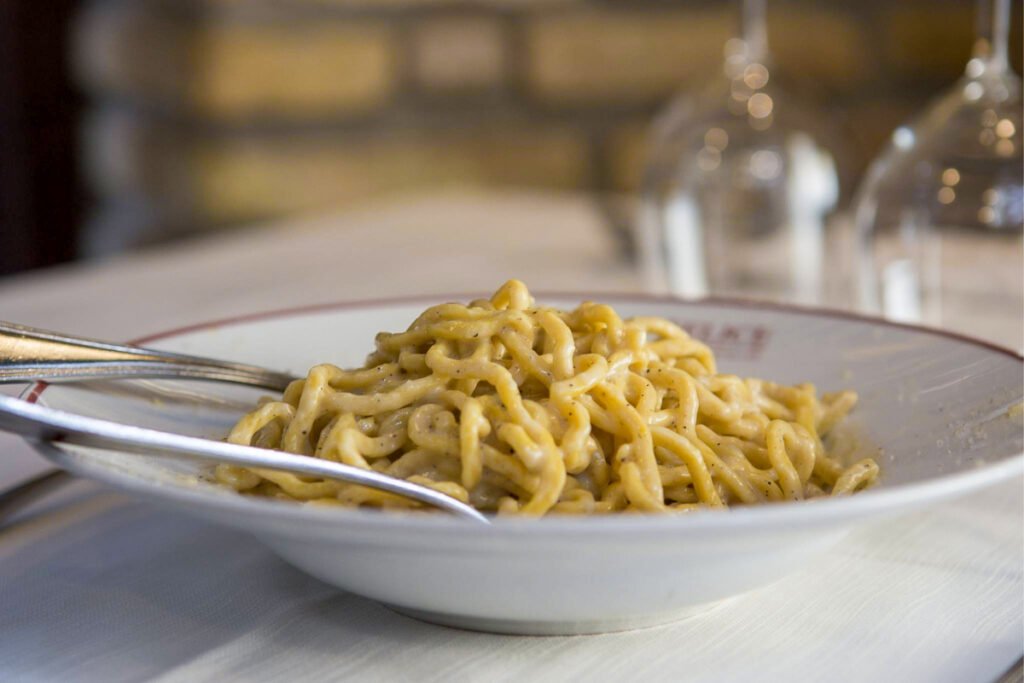 Where to find the four Roman pastas
Amatriciana, carbonara, cacio e pepe, and gricia can be found on the menu of osterias and trattorias across the city, or at least one or two can be on any given day. Romans pride themselves on authenticity and locals know what to expect, so most of the time, these pastas will be well-prepared everywhere. That said, here are a few tried and true Roman eateries where you are sure to experience the real thing.
Felice a Testaccio
Located in what was once a working-class neighborhood filled with Roman pride, Testaccio is arguably the culinary heart of the city, home to some of the most authentic trattorias and osterias, notably among them Felice a Testaccio. The most acclaimed of the eateries on our list with much media attention and a second location in Milan, Felice a Testaccio is a Roman institution while still offering an unpretentious, hospitable dining experience. Via Maestro Giorgio, 29. Tel. 06 5746800. Reservations can be made online.
Flavio al Velovevodetto
Also in Testaccio, Flavio al Velovevodetto is another go-to restaurant for authentic Roman cuisine. Founder Flavio De Maio worked at Felice a Testaccio for several years before opening Flavio al Velovevodetto in 2009 on the site of Monte Testaccio, affectionately called Monte dei Cocchi by Romans, a small hill made of broken pieces of pottery where the ancient Romans discarded their used amphorae. You can see remnants of the ancient pottery behind glass walls in their dining hall, or if the weather is nice, ask to be seated outdoors on the patio. Via di Monte Testaccio, 97. Tel. 06 5744194. Reservations can be made online.
Hosteria da Corrado
Hosteria da Corrado is a tiny, traditional eatery in Trastevere, one of the city's oldest and most storied neighborhoods, now a popular destination for Romans and visitors alike, filled with buzzy restaurants, bars, and clubs. With no online presence and humble decor, Hosteria da Corrado does not cater to the tourist crowd but is a hidden jewel for local Trasteverini, who appreciate the unfussy, authentic meals and family-like atmosphere. Paper tablecloths, shatterproof wine tumblers, and bread brought to you in a paper bag are all part of the experience, and be warned – they will look at you funny if you ask for a wine list. We recommend stopping by in person to ask about reservations or just walking in. Via della Pelliccia, 39. Tel. 339 753 8155.
Hosteria da Pietro
Tucked away on a side street named Via Gesù and Maria (Via Jesus and Maria, after the nearby church with the same name) just a few blocks away from Piazza del Popolo, Hosteria da Pietro is a traditional Roman eatery that has not lost its charm or authenticity even as it has gained notoriety. Expertly prepared authentic Roman dishes, a distinguished wine list, and attentive service add up to an elevated yet unfussy dining experience. Call or stop by in person for reservations. Via di Gesù e Maria, 18. Tel. 06 3208816.