As Easter approaches, pastry shops and home kitchens all around Naples prepare to bake the classic Neapolitan cake, pastiera napoletana, the fragrant, ricotta-based tart with a rich history.
One of the many tales associated with the pastiera involves the mermaid Partenope, the siren who lived among the rocks of the Gulf of Naples and who tempted Ulysses and his crew with her beautiful singing in Homer's The Odyssey. To celebrate the arrival of spring year year, Partenope would sing to the local inhabitants. One year, to thank her for her songs, they offered her local gifts from the land: ricotta, flour, eggs, wheat berries, perfumed orange flowers and spices. Partenope was delighted and took the gifts to her kingdom under the sea, where the gods mixed them together into a case, now known and pastiera.
Statue of Partenope in Naples' Piazza San Nazzaro
More recent legend attributes the origins of the pastiera to a Neapolitan nun who wanted to make a pie that symbolized the resurrection. She added cooked wheat to fresh sheep's milk, added eggs as a symbol of new life, and water aromatized with the fragrant orange blossoms from the trees growing in the convent's gardens.
It's said of the pastiera, "Non puo mancare sulla tavola di Pasqua" (It must not be absent from Easter table), and true Napoletani make it a few days in ahead of time so that the flavors develop and harmonize. We prepared ours on Good Friday and let it rest until Easter Sunday.
La pastiera napoletana
Our recipe was inspired by Giorgio Locatelli's pastiera recipe and a few other versions. The pasteria begins with a crust of pasta frolla, which is found in several other Italian cakes and tarts, such as crostata and torta della nonna.
It calls for grano cotto, or cooked wheat berries, a specialty product that can be found in brick and mortar and online Italian markets. It also calls for candied citron, which may also take some searching for. Finally, for best results, track down the Italian leavening agent Lievito Pane degli Angeli, available on Amazon if you cannot find it locally. You will also need a tart pan with a 10-13 inch diameter and sides at least 2 inches high. A round cake pan or spring form pan will work, too.
Happy Easter!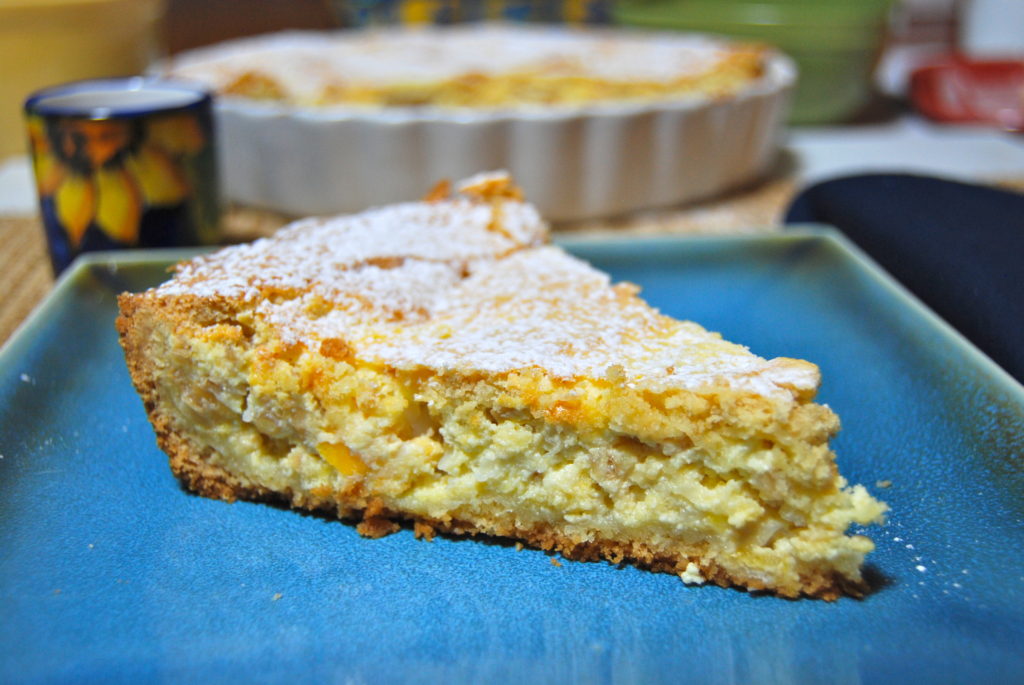 Pastiera Napoletana
As Easter approaches, pastry shops and home kitchens all around Naples prepare to bake the classic Neapolitan cake, pastiera napoletana, the fragrant, ricotta-based tart with a rich history.
Ingredients
For the pasta frolla
200 grams flour
8 grams Lievito Pane degli Angeli
80 grams sugar
80 grams butter, cubed
1 egg
Zest of 1 lemon
For the filling
300 grams granno cotto, or cooked wheat berries
250 ml whole milk
250 grams fresh ricotta
250 grams fresh whole milk ricotta
3 eggs, yolks and white separated - preserve all 3 yolks and 2 of the whites
115 grams sugar
60 grams candied citrus, lemon and/or orange peel
Zest of 1 lemon
4 tsp orange extract
A pinch of salt
Instructions
Add the flour, Lievito Pane degli Angeli (or baking powder), sugar, butter, egg and lemon zest to a mixing bowl.
Mix on medium speed with a stand mixer until the dough is combined.
Shape into a ball, cover in plastic wrap and refrigerate for at least 1 hour.
Preheat the oven to 350° F (180° C).
Place the grano cotto, milk and 15 grams (1 Tbsp) of the sugar into a saucepan and bring to a boil over medium-low heat. Set aside to cool.
In a separate bowl, mix together the ricotta, egg yolks (set aside 2 of the 3 whites), the rest of the sugar, candied peel, lemon zest, orange extract and a pinch of salt.
When the grano cotto mixture is cool, stir it into the ricotta mixture.
Beat 2 of the 3 egg whites until stiff. Fold the egg white mixture into the rest of the filling, and set aside.
Butter and flour a 9-11 inch or 26-28 cm. fluted-edge tart pan.
Remove the pasta frolla from the refrigerator and separate it into two pieces – one piece made up of about 2/3 of the dough, and the second piece made up of the remaining 1/3.
Sprinkle flour onto a smooth surface and roll out the larger piece of dough until it is big enough to fill the base and sides of your tart pan.
Line the tart pan with the rolled out dough, pressing it in so that it is equal thickness on the bottom and on the sides. Trim any excess dough around the rim of the pan.
Trim any excess dough around the rim of the pan.
Pour the filling into the shell, and arrange the strips of pasta frolla in a lattice pattern on top, taking care to seal the edges of the lattice with the crust.
Bake at 350° F (180° C) for 45 minutes, then lower the temperature to 250° F (120° C), and let it bake for 20 more minutes. Turn the oven off, open the oven door a crack, and let the pastiera rest in the oven until cool.just until the center is firm and does not wiggle when you gently shake the pan.
Notes
A fluted tart pan with a removable bottom makes for a lovely torta. If you don't have one, a spring form pan or even a pie dish will work.
2 teaspoons of baking powder can be used instead of Lievito Pane degli Angeli, if needed.
You can prepare your own grano cotto by cooking wheat berries and then letting them cool in their own water. You can also substitute pearl barley, cooked according to instructions.
Sheep's milk ricotta is preferred. It you cannot find it locally, substitute with cow's milk ricotta. Make the effort to find fresh ricotta, not the supermarket tubs.
Candied citron, lemon or orange peel will work fine. It can be left out if needed, but it is worth the effort to find it.