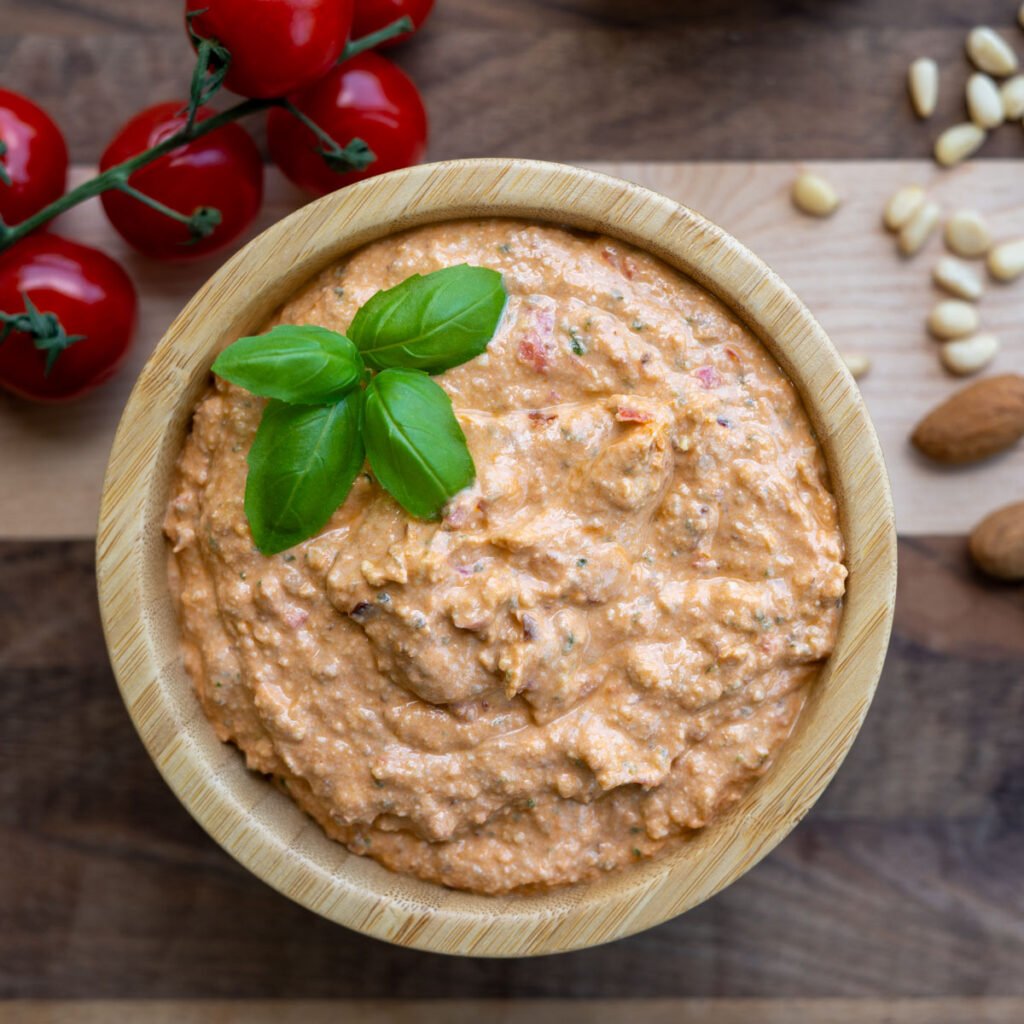 In the rest of the world, we think of Italian food as one big category, Italian cuisine is actually quite region-specific. Culinary traditions and ingredients vary by region, influenced heavily by the climate, the land, and the plants and animals that inhabit it. The basil, pine nuts, garlic, and parmesean sauce which we call pesto is actually pesto alla genovese, originating in the region of Liguria, where the city of Genova is found.
However, the word pesto comes from pestello, or pestle in English, and refers to any combination of ingredients ground together by mortar and pestle. Southern Italy has provided several variations of pesto, making good use of the foods that grow in that sun-drenched part of the country.
From Calabria we have pesto alla calabrese, with roasted red peppers, eggplant, ricotta and just a bit of tomato. Pesto alla siciliana leaves out the red peppers and the eggplant, giving greater emphasis to the tomato and ricotta while keeping the pine nuts common to the genovese version. The Sicilian city of Trapani yields yet another version, pesto alla trapanese, with tomatoes, almonds, and pecorino cheese.
We based our version on the classic pesto alla siciliana recipe, but borrowed the almonds from the trapanese version and used ricotta salata along with fresh ricotta and parmesean for a more complex cheese flavor.
Wine Pairing
We recommend a Nero d'Avola with pesto alla siciliana, as the Nero d'Avola is an indigenous Sicilian grape. This is a well-balanced red wine with nice acidity that complements the pesto's cheese and tomato base. The wine has a fruit forward approach that makes it food-friendly, but it is also very pleasant to enjoy by itself. One to try is Nero d'Avola from Cantine Colosi, a beautiful winery located on one of the Aeolian islands off of the coast of Sicily.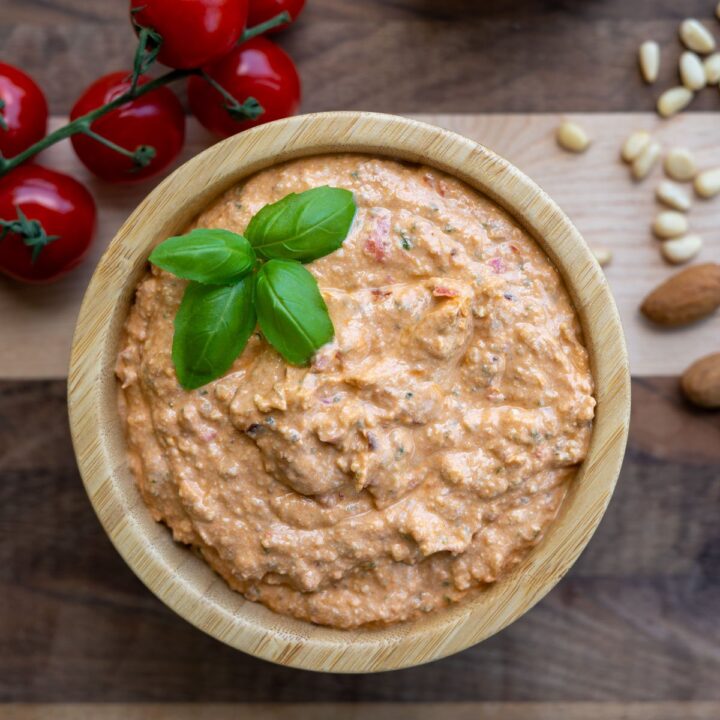 Pesto alla siciliana
Southern Italy has provided a few different variations of pesto, making good use of the foods that grow in that sun-drenched part of the country. Pesto alla siciliana combines tomatoes with blend of cheeses and nuts for a complex, harmonious flavor.
Ingredients
1 medium tomato
50 grams fresh ricotta
25 grams ricotta salata
25 grams Parmigiano Reggiano
25 grams pine nuts
25 grams almonds
1 small bunch of fresh basil
1/2 clove garlic
1 and 1/2 tsp salt
1 tsp extra virgin olive oil
1 tsp crushed red pepper
Instructions
Cut the tomato into small pieces and place them into a food processor.

Add the fresh ricotta.

Cut the ricotta salata and Parmigiano into small pieces and add them to the food processor.

Add the pine nuts and almonds, and then the basil.

Chop the garlic and add it as well, along with the salt, olive oil and crushed red pepper.

Blend in the food processor until smooth.

Toss with short pasta cooked to al dente, and serve with a dusting of fresh grated Parmigiano on top.
Notes
Experiment with different tomatoes, using whatever is in season and local.
Go out of your way to get good, fresh ricotta, from an Italian deli or a speciality cheese shop.
Ricotta salata is a hard Italian cheese made from sheep's milk. It is white in color and dense, somewhat similar to a feta. You may have to look around to find it. If you come up short, just double the amount of Parmigiano.
We prefer pesto alla siciliana on short pasta. For this meal, we used a pasta produced made in the south of Italy, fusillata casareccia made by Pastificio G. Di Martino.