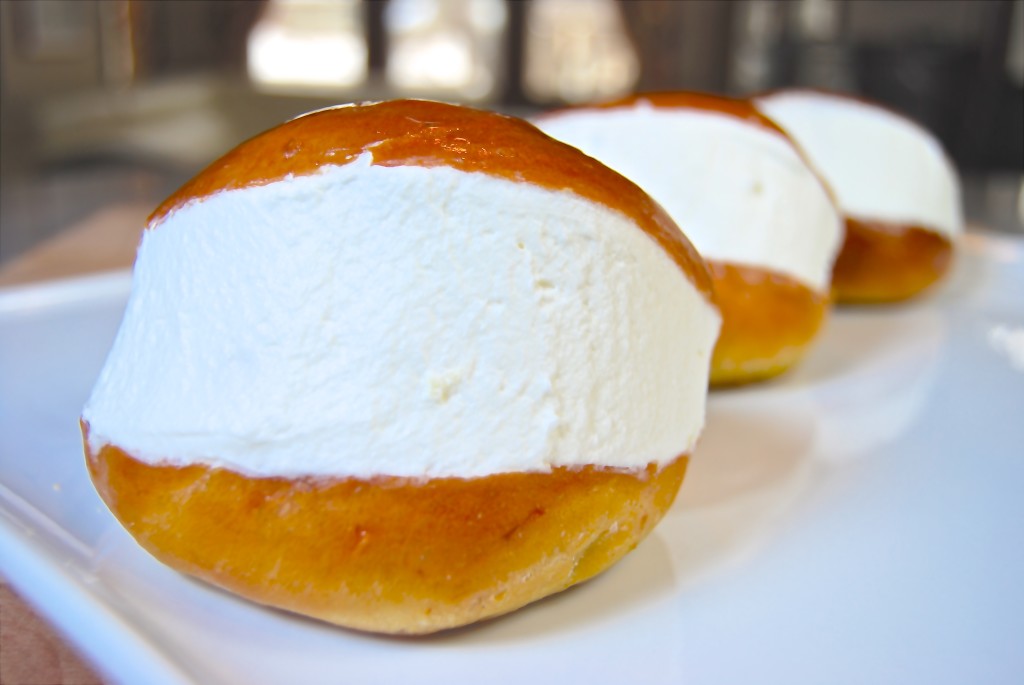 La brioche con la panna a cui nessun romano può rinunciare.
The whipped cream-filled brioche that no Roman can renounce.
This bold declaration greeted us on a giant sign hung on the wall in the pasticceria, directly across from the enormous glass pastry case filled with delectable Italian pastries. We were at Eataly Roma, the high-end, all-Italian food emporium located in the formerly abandoned, space-age looking Air Terminal building near the Ostiense train station.
Eataly was founded in 2007 in Turin, Italy, with the goal of being a not just a food market, but also a cooking school, eatery, and a place to experience Italian cuisine, viniculture and lifestyle. There are now 40 Eataly locations in major cities across the world. In the states, Eataly emporiums can be found in New York, Chicago, Boston, L.A., Las Vegas, Dallas and Silicon Valley. Sadly, there still isn't one in our hometown of Minneapolis, yet.
Since we were in Rome, Eataly's pasticceria featured the classic Roman pastry maritozzo con la panna, perfectly executed by guest pasticcere Luca Montersino, Italy's most famous celebrity pastry chef. Proving the proclamation true, Stefano could not help himself – he ordered a maritozzo and ate it right there.
Maritozzi are fragrant, sweet-dough buns sliced in half and filled with smooth, fresh whipped cream. They are a staple in Rome's pasticcerie, and commonly found during the breakfast hours in coffee bars around the Eternal City. Stanley Tucci was offered a maritozzo at Bar San Calisto in Rome's Trastevere neighborhood.
When Stefano was young, on special occasions his parents would bring maritozzi con la panna home from their favorite neighborhood pastry shop. Sometimes, when Stefano joined his father Andrea for a morning caffè at the bar, Andrea would buy him a maritozzo.
Some traditional Roman maritozzi recipes call for sultans, pine nuts and candied orange peel. We prefer a simple sweet dough recipe with only orange zest providing a mild citrus flavor, just like those that Stefano recalls from his childhood.
Enjoy as a decadent, Roman-style breakfast or with your afternoon espresso as a special treat.
Maritozzi con la panna
Maritozzi, fragrant, sweet-dough buns sliced in half and filled with whipped cream, are a staple in Rome's pasticcerie and commonly found during the breakfast hours in coffee bars around the Eternal City.
Ingredients
For the brioche
6 grams active dry yeast
125 ml warm water
1 heaping Tbsp malted milk
250 grams flour
50 grams sugar
1 pinch salt
40 grams butter
1 egg, yolk and white separated
Zest of 1 orange
For the sugar glaze
50 ml water
75 grams sugar
For the filling
500 ml whipping cream
Mal50 grams sugar
Instructions
Stir the yeast in the warm (not hot) water until dissolved.
Add the malted milk and stir until dissolved. Set aside.
Measure the flour, sugar, and salt into a medium bowl. Stir together.
Form a well in the center and add the butter, egg yolk and orange zest.
Slowly add the liquid, mixing with a fork to gradually incorporate the flour mixture from the inside out.
When all of the liquid has been added and the dry mixture incorporated, remove the dough from the bowl and turn it out onto a smooth, lightly floured surface. Knead gently for five minutes until it forms a smooth, round ball.
Sprinkle a bit of flour inside a smaller bowl, place the dough inside, and cover it loosely with plastic wrap. Let the dough rise in a warm location for at least two hours.
After two hours, add a sprinkle of flour to your work surface and turn your dough back out onto it. Divide your dough into 6 equal small, oval (or football-shaped) buns, using your food scale to ensure that they are equal sized.
Place the buns onto a baking pan lined with parchment paper. Cover with plastic wrap and let rise for 30 minutes.
Beat the egg white lightly with a fork. Uncover the buns and reshape into ovals if needed. Use a pastry brush to Carefully brush the buns with egg white. Cover once again with plastic wrap and let rise for one hour more.
Bake at 180º C, 350º F for approximately 20 minutes, until the maritozzi are a deep golden brown on top.
While the maritozzi are baking, prepare the sugar glaze. Heat water until almost a boil, and then turn off the heat. Add the sugar and let dissolve, stirring just once or twice. Let cool.
When the maritozzi are done, remove them from the oven and while still hot, brush them with the sugar glaze. Let cool.
While the maritozzi are cooling, whip the cream together with the sugar to firm peaks.
When the maritozzi are completely cool, slice into them diagonally without cutting all the way through. Using a pastry spatula, open up the "mouth" of each maritozzo and fill it with whipped cream, using the spatula to create a smooth edge, and a moistened paper towel to wipe away any extra whipped cream.
Notes
If your fingers stick to the sugar glaze when cutting the brioche and filling it with cream, try moistening your fingers with water and holding each maritozzo carefully at its base.