This post is for one of our readers, Jene, whose prolific lemon tree has produced more lemons that she knows what to do with. What a wonderful problem to have! She asked us for our limoncello recipe, and we were happy to share it.
We placed a call to Stefano's mom, Maria, to double-check ingredient quantities and methods. She called Stefano's aunt Elena over from the apartment next door, and we had the two of them on speakerphone discussing their recipes. Not surprisingly, each differed slightly. Depending on taste, you can adjust the amount of lemon peel and sugar to find the right balance of tartness and sweetness. The recipe we are sharing is one that Stefano's father Andrea was given by a gentleman from the Italian island of Ponza, located just off of the coast in the Tyrrhenian sea, between Rome and Naples.
Stefano's grandma, Nonna Pierina, had a lemon tree in her little city garden that, like Jene's, bears an inordinate amount lemons. Andrea routinely made limoncello from those lemons, and we enjoyed it all year long. Once, on the last evening of one of our first trips back to Rome after we'd moved to the States, Andrea came into our room where we were repacking our suitcases. He had several plastic ziplock bags with something wrapped carefully in paper towel inside.
As it turns out, in complete disregard for FDA regulations, he'd carefully peeled a bunch of Nonna Pierina's lemons and was sending the peel back to American with us inside those plastic bags so that once home, we could make limoncello. We chanced it through customs and immediately upon return Stefano got busy making our limoncello. Although limoncello can now be found readily in liquor stores, there is something special about having your own to share with friends and family.
A note on pronunciation: vowels take on the long-vowel sound in Italian, so it's LEE-moan-cello. Limon- rhymes with the name Simone, and -cello is pronounced just like the string instrument. It's not "lemon" cello. The correct pronunciation makes it taste all the better.
Limoncello is typically served at the end of a meal, but can be enjoyed anytime. For something different, check out Due Spaghetti's recipe for tiramisù al limoncello.
Good luck, Jene, and let us know how it turns out!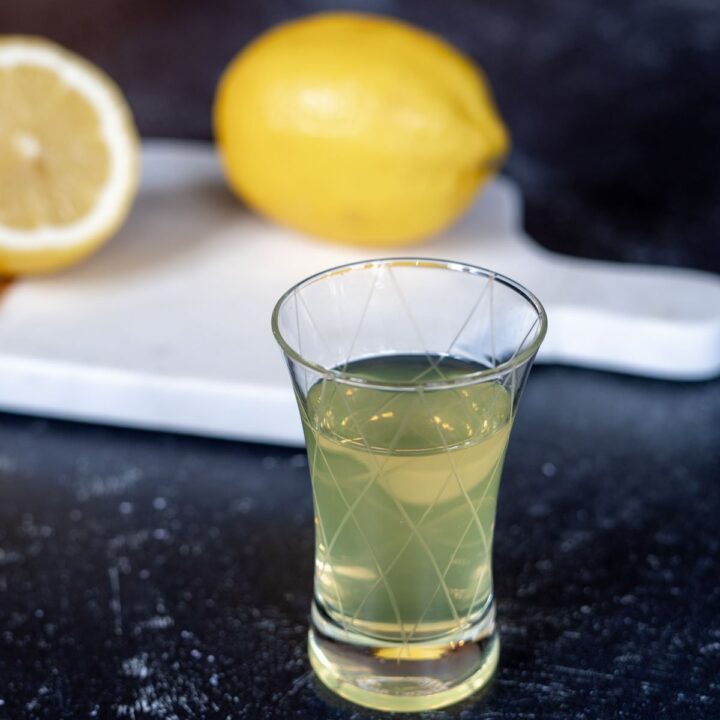 Limoncello
Limoncello is the quintessential liquor of the Amalfi coast, where lemons are grown on terraces along the steep, mountainous coastline.
Ingredients
250 grams lemon peel (approximately 10-12 lemons)
700 grams sugar
1 liter pure grain alcohol, such as Everclear 95% (190 proof)
1 liter water
Instructions
Scrub your lemons, and then use a vegetable peeler to remove the yellow rind, avoiding the bitter white pith beneath.
Place the lemon peel and the alcohol in a container with a lid, and let it sit for 10-15 days.
Upon return, strain the lemon peel from the alcohol mixture, preserving the alcohol.
Place the water into a pot, add the sugar, and bring to a low boil. Boil for approximately 5 minutes until the sugar is dissolved.
Let cool, and add the sugar-water to the lemon-infused alcohol.
Seal it again with a lid, place it in the freezer and let sit for 2 weeks (it will not freeze due to the alcohol content), after which time the limoncello will be ready.
Store in air-tight bottles in the freezer and serve chilled in small liquor glasses.
Notes
Use up to 1 kilo (2.2 lbs) of sugar for a sweeter drink.